Schilling faces uphill battle
Originally Published:
August 25, 2005
By
Jayson Stark
| ESPN.com
Dennis Eckersley. John Smoltz. Flash Gordon. Jason Isringhausen.
If you've read this deep into this column, we bet you know exactly which claim to fame connects that group of distinguished pitching names.
CAREER STATISTICS

GM
W
L
Sv
K
ERA
506
189
128
22
2792
3.37
The answer: Like
Curt Schilling
, they all once changed job descriptions in the middle of a season. From starter to closer. Happens all the time.
But that group actually has very little in common with what Schilling will attempt to do Thursday night in Kansas City -- and for as long as the Boston Red Sox continue to play baseball this season.
As Schilling will demonstrate in his own inimitable way, the road from rotation to bullpen is a two-way street. But there's a biggggg difference between the side of the road Eckersley, Smoltz and Gordon traveled and the side Schilling is about to tackle.
It's kind of like the difference between skiing downhill vs. uphill.
"You can take any starting pitcher and make him a closer in one week," said Schilling's old manager, Jim Fregosi. "But it takes a long period of time to take a guy who's been closing and make him a starter again."
Maybe that's why the list of pitchers who have ridden down Schilling's side of this street -- and taken that road from closer to starter -- is shorter than Quinton McCracken.
In the last 20 years, we could find just four pitchers who did, in any season, what Schilling is aspiring to do this year:
To qualify, they had to save at least as many games as Schilling saved (nine). Then, after compiling those saves, they had to head for the rotation at some point before September and make at least a half-dozen starts the rest of the way.
Just four pitchers made the cut. And when you check out this foursome, it might tell you everything you need to know about how rare and how difficult the midsummer journey from closer to starter can be:
From Closer To Starter
Tim Wakefield, 1999 Red Sox
The first act: Started through June 8, closed through Aug. 22, then went back into the rotation.
The transition: Went 4 1/3 IP in his last relief appearance., then 7 IP in his first start.
How it went: 15 saves with 3.50 ERA in relief; 5-9, 5.86 as a starter.

Rocky Biddle, 2004 Expos
The first act: Closed through July 5, then started in the second half.
The transition: Went 4 IP in his last relief appearance, then 5 IP, 5 IP and 6 IP in his first three starts.
How it went: 11 saves, 7.82 ERA in relief; 3-4, 6.02 as a starter.
John Candelaria, 1985 Pirates and Angels
The first act: Relieved for the Pirates through July, then traded to the Angels, where he started in August and September.
The transition: Went 3 IP in his last relief appearance, then 5 IP, 5 IP and 6 IP in his first three starts.
How it went: 9 saves, 3.64 ERA in relief; 7-3, 3.80 as a starter.
Tom Waddell, 1985 Indians
The first act: Relieved through July 27, started most of August and September.
The transition: Went 2 1/3 IP in his last relief appearance, then 6 IP and 6 IP in his first two starts.
How it went: 9 saves, 4.05 ERA in relief; 4-1, 5.81 as a starter.
Tim Wakefield
(1999),
Rocky Biddle
(2004), John Candelaria (1985), Tom Waddell (1985).
That's the group. All of it. Not quite as memorable as those four names at the top of this column, is it?
But aside from telling us how unusual this is, the truth is that not one of those four pitchers really offers much insight into what we can expect from Schilling in the next few months.
Wakefield is the closest match in some ways -- just because he started for two months in '99, became the closer in June, then went back to the rotation. And, like Schilling, he did it all for the Red Sox. But beyond that, the similarities go right into the dumpster for one inescapable reason: He's a knuckleballer, making him a baseball species all his own.
The next-closest match is Candelaria. But he doesn't work, either, because he made all his relief appearances for one team (the Pirates) and made all his starts for another (the Angels) after he got traded in July. So, there goes that parallel.
Finally, Biddle (2004 Expos) and Waddell (1985 Indians) were both mediocre closers who became mediocre starters. They don't exactly fit here, either.
OK, we're 0-for-4 with that quartet. But if we look at this another way, Schilling also is attempting to do what just one other pitcher has done since the invention of the modern save rule -- save this many games in a season and then appear in the postseason as a starter.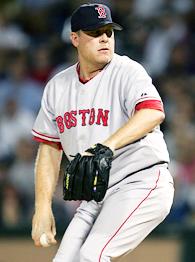 Jonathan Daniel/Getty ImagesSchilling's legendary status in Boston could grow even more.
The only guy who ever did that was Larry Gura, for the 1977 Royals. But even he bears no similarity to Schilling, except for their potential partnership as Human Trivia Answers -- since Gura only made a surprise start in the ALCS because manager Whitey Herzog thought Gura might use his long-running feud with Yankees manager Billy Martin as inspiration. (Didn't work, by the way.)
Since history isn't helping us in any of those cases, maybe the best way for us to get an idea where Schilling's story is heading is to look back at another guy who made a midseason switch from bullpen to rotation 13 long years ago:
A guy named Curt Schilling.
Yes, we shouldn't forget that Schilling himself tried this trick (sort of) back in 1992. Of course, he was only 25 then, not 38. And that wasn't all that was different.
He wasn't exactly an October legend yet, either. He wasn't closing for the Phillies at the time. And three different teams (the Orioles, Astros and Phillies) still hadn't been able to figure out what the heck his best niche was going to be.
But in mid-May, after he'd made 16 relief appearances, Fregosi and his pitching coach, Johnny Podres, decided to try him out as a starter. Not a bad idea, it turned out.
Schilling went 12-9 -- with a 2.27 ERA, four shutouts and 10 complete games -- over the last 4½ months. And an ace was born.
But the question is: Can the knowledge that he did this successfully once be of any help to him as he tries it again?
| | | |
| --- | --- | --- |
| | " | It's a pretty huge undertaking. He has higher standards than any one of us put on him, and I think he's determined to live up to them." |
| | | — Red Sox pitching coach Dave Wallace |
"Oh, I think it will," said current pitching coach Dave Wallace. "True, it was at a different stage of his career. But the thing about Curt is, he remembers
every
part of his career. He really does. The guy is absolutely amazing that way. And then you add in the experience and the maturity he has now, and he can draw off all of that."
How did Schilling's transition go the first time around? Incredibly, when he moved into the rotation in '92, he was able to throw six innings in his first start, work into the seventh in his next start, go eight in his third start and pitch his first complete game by his fifth start.
Think he'll reenact that this time? Think again.
"The one thing I know for sure," Wallace chuckled, "is that he's going to want to stay out there longer than we want him to. But we all agreed his first outing would be five innings, 75 pitches. And after that, I don't care how great he feels. We've got to do what we've got to do."
Essentially, what they've got to do is protect him from himself. But that wasn't an issue the first time around, 13 years ago, in a whole 'nother lifetime.
"The most difficult part, obviously, is how far [into the game] can he go," Fregosi said. "When we changed him in '92, he went into a terrific conditioning program. He ran the stairs every day at the ballpark, because he was excited about doing it, and he was in terrific shape. Now, with his ankle, I don't know how good a condition he's in. How much running can he do? All those things come into it."
Wallace reports that Schilling's ankle has improved enough that "he can get some running in," even if "he won't be a burner out there." But there are still lots of questions about how well he'll be able to adjust to a whole new fitness routine.
"There's a big difference between coming to the park preparing to throw 20-25 pitches and preparing to start every fifth day," Wallace said. "As a reliever, you play a little catch. But you do very little running, knowing you can't exhaust yourself because you might be in the game that night. Now, he'll have to push his body pretty hard because he knows he has to be ready to go so much deeper into the game."
Pennant Race X-Factors
Mike Hampton: Back before his forearm tightened up on him in mid-May, Hampton had a 1.96 ERA after eight starts. Since then, he's had more trips to the disabled list (four) than wins (one). In his three starts in July and August, he served up 27 hits in 10 1/3 innings and ran up a 13.06 ERA. And now he's back on the disabled list with back issues. In a division with very few frontline left-handed starters, Hampton's presence in September and October could have a major impact on the Braves' fate.
Kelvim Escobar: About two months after surgery to remove a bone spur and bone chips from his elbow, Escobar is already one start into a minor-league rehab expedition. He'll be back in September to make a potentially huge impact on the Angels. This, after all, is a guy who struck out 46 hitters in 40 2/3 innings this year with a bad elbow. Think what havoc he might wreak with a healthy elbow.
Steve Trachsel: Bet you didn't know that since Opening Day 2002, Trachsel has a lower ERA (3.73) than Bartolo Colon, Brad Penny or Mike Mussina. Now, he's finally back after missing the whole season following back surgery. The Mets are starting him off in the bullpen. But if Victor Zambrano, Jae Seo or Kris Benson scuffles, he's a guy to watch. He went 12-7 against the Braves, Phillies and Nationals (then the Expos) in 2003-04.
Adam Eaton: Is there anyone who remembers that back on June 15, the only National League pitcher with more wins than Eaton (9-2) was Dontrelle Willis? Then, Eaton strained a flexor tendon on the middle finger of his pitching hand, and there was a time the Padres thought he might not start again the rest of the year. But he's heading back into the rotation any day now. And anything that bumps Pedro Astacio or Chan Ho Park out of this team's starting mix can't possibly be a bad thing.
Jaret Wright: Wright is always an E.R. episode waiting to happen. But there is a reason the Yankees handed him that three-year, $21-million contract last winter. And over his last two starts -- following a three-month disabled-list sabbatical with yet another attack of shoulder issues -- Wright has reminded folks how good he can be. He's 2-0 with a 1.35 ERA in those two starts. He was 2-2 with a 9.15 ERA before that. Now, the Yankees' whole season could turn on which Jaret Wright shows up the rest of the way -- the good, the bad or the injured.
But how ready is Schilling physically to rise to that level of exertion? Only Nostradamus knows for sure.
"It won't be until the second and third start that we have an indication of where he is from a physical standpoint," Wallace said, "where we know how his body is going to react. He's going to have to use all his pitches and throw 75-80 pitches, which he hasn't done in a long time, and do it in the intensity of a pennant race. When he's done that two or three times, we'll find out a lot [about what he's capable of]."
Why is he making this move now? It isn't so much because there's universal confidence that he's ready. And it isn't because he was beginning to struggle in relief.
No, this is all about the big picture, about getting Curt Schilling ready for his favorite month -- October.
"He's headed back there because of the time factor, because he's got to have time to get in shape," Wallace said. "For us to keep playing, we need Curt Schilling. That's the first thing. The second thing is that Keith Foulke, hopefully, is close to getting back [to take Schilling's place in the bullpen]. And the third thing is that we're a week away from September, when we can get creative and add some pieces [to the roster]. So we all want to do this, and we all think now is the time to do it."
But what no one knows is the ultimate question: Is it going to work?
Schilling's ankle held up fine when he was throwing 20, 25 or even 35 pitches a night. But will it turn back into fettuccine when he has to throw 75, or 100, or 120? Could that bloody sock make a comeback? You never know.
"If anybody can do this, it's him," Fregosi said. "This guy has been able to do just about anything he's put his mind to in the last few years, because he's got that competitive fire. But realistically, his stuff is not the same right now."
Once Schilling pitched at 94-96 mph, but he has pitched in relief at about 5 mph less than that. Will he get the turbo back on his fastball pitching every fifth day? Maybe. But most pitchers throw harder in short relief than they do as a starter.
"Is his stuff going to be better out of the rotation? I can't answer that question," Wallace said. "The only thing I can say is, this is a routine he's familiar with -- preparing to pitch every fifth day, using all four pitches, he and Jason [Varitek] getting together and preparing to pitch to a whole lineup, as opposed to coming out of that bullpen to face three or four guys, with no margin for error."
Even if he doesn't get all the high-test back on his fastball, we shouldn't minimize how much Schilling's fanatical preparation has had to do with his emergence as an ace, a money pitcher and an October warrior. Starting should at least fit his persona better than closing, even if his repertoire isn't quite vintage Curt Schilling, circa 2001.
But there is one other factor to consider here -- and that is the standard this man has set for himself.
He isn't just any old pitcher, trying to go from the bullpen to the rotation. He is Curt Schilling, trying to get back to being his old Mr. October self.
He has a reputation to live up to, and a level of brilliance he demands of himself. All that just adds to a challenge that's essentially unprecedented in modern history.
"It's a pretty huge undertaking," said Wallace. "He has higher standards than any one of us put on him, and I think he's determined to live up to them."
Jayson Stark is a senior writer for ESPN.com.
Senior Writer, ESPN.com
Senior writer for ESPN.com
21 years at the Philadelphia Inquirer
Author of three baseball books
EDITORS' PICKS
Continuing the BBTN 100 rankings with a look at the top 10 first basemen starters.
Rankings »

Bryce Harper will reach his 40-home run power ceiling, Jim Bowden says.
Blog

The Red Sox DH denied ever knowingly using steroids.
Story »

MOST SENT STORIES ON ESPN.COM