Boston's memory of Clemens just won't fade away
Despite leaving the Red Sox after the '96 season, Roger Clemens remains a big part of the city of Boston.
Originally Published:
May 21, 2003
By
Sean McAdam
| Special to ESPN.com
Seven years after he left town -- with former Boston GM Dan Duquette's not-so-prophetic words undoubtedly ringing in his ears -- it sometimes seems as though Roger Clemens never took off his Red Sox uniform.
Two teams later, Clemens remains very much a present-day topic on the Boston sports landscape. Some will never forgive that he left a legacy of mediocrity (40-39) in his final four years with the Red Sox. Some will never forget that he won 192 games, three Cy Young Awards and an MVP.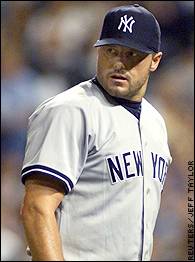 In this his fifth season with New York, Roger Clemens has 65 wins as a Yankee.
Boston can't let go. This is a city, remember, which held a victory celebration for long-time Bruin Ray Bourque -- for winning a Stanley Cup with the Colorado Avalanche.
Think Jason Giambi will ever get a parade through Oakland's Jack London Square should he win a World Series with the Yankees? Think again.
It positively crushes Red Sox fans that Clemens has gone on to win two pitching Triple Crowns, three Cy Young Awards and two world championships since leaving the Red Sox following the 1996 season.
That Clemens won those two world championships as a member of the hated New York Yankees is additional salt in the wounds of Red Sox fans. The vitriol was so strong that Clemens' wife, Debbie, reportedly broke down in tears as she listened to the verbal abuse showered on her husband during a return to Fenway Park in the uniform of the enemy.
If the baseball gods had a better appreciation for irony -- or at least a sense of humor -- Clemens would have been going for career win No. 300 Wednesday night at Fenway Park. Instead, Clemens failed to win in his last start and qualified for his 299th victory against his former team after pitching six innings of a 4-2 outcome.
But that's sapped only some of the theater from Wednesday's game. The mere sight of Clemens in pinstripes is enough for most people.
All week, columnists have been debating the relative merits of which cap Clemens should wear upon his certain induction into Cooperstown. Others have debated whether his No. 21 should be retired by the Sox.
(Under the current guidelines, Clemens is ineligible for the latter because he didn't finish his career in a Red Sox uniform. This widely criticized policy, developed under the Duquette-John Harrington regime, is believed to have been instituted with the sole purpose of giving the Sox a built-in excuse to not honor Clemens, Mo Vaughn and Wade Boggs, all of whom left Boston unhappily in the 1990s).
| | | |
| --- | --- | --- |
| | | It's been said before, but it's true: for Red Sox fans, watching (Roger) Clemens thrive as a Yankee is the equivalent of watching your ex-wife marry your sworn mortal enemy -- then live happily ever after. |
It's been said before, but it's true: for Red Sox fans, watching Clemens thrive as a Yankee is the equivalent of watching your ex-wife marry your sworn mortal enemy -- then live happily ever after.
For a lot of Red Sox fans, Clemens, who is tied with Cy Young for most victories (192) by a Sox pitcher, can't win. Had he continued to struggle in Toronto and Boston, they would have happily concluded that he was, as Duquette infamously projected, "in the twilight of his career.''
Because he has instead flourished, Red Sox fans resent him all the more. Why couldn't he pitch that way for us? goes the anguished wail.
For his part, Clemens has begun to soften some in regard to Boston. After stubbornly insisting that his periodic returns to the Fenway Park mound were no different than visits to other opposing ballparks, he now acknowledges the obvious: that his time and achievements in Boston were special.
"It's never in the past,'' said Clemens, reflecting on his Red Sox career earlier this week. "This town, this ballpark, are a part of me. I worked here. I gave my all here. That's the bottom line. That will never change.''
That may be as close as Clemens ever comes to sentimentality. He could never show that naked affection for Boston while Duquette and Harrington ran the Red Sox because the feelings were too fresh and raw. Now that Duquette and Harrington have receded into history, it's safe for Clemens to come clean emotionally.
Top Sox
Red Sox all-time wins leaders:
Pitcher
Wins
Roger Clemens
192
Cy Young
192
Mel Parnell
123
Luis Tiant
122
S. Joe Wood
117
Bob Stanley
115
Joe Dobson
106
Lefty Grove
105
A lot has changed since Clemens left town. The club has been sold, gone through three managers, and the park has been remodeled. Only three teammates remain from Clemens' stay, and two of those -- Nomar Garciaparra and Trot Nixon -- were September callups in the autumn of Clemens' Red Sox career.
What was the reaction when Clemens took the mound Wednesday night? Mixed, naturally.
Some will put aside past differences and pay homage to one of the greatest pitchers of all time. Some will cling to old grudges and refuse to cheer a Yankee in a battle for first place in the AL East.
Either way, emotions will be flowing, feelings conflicted, what-might-have-beens considered.
How can we miss you, Roger, if you won't go away?
Sean McAdam of the Providence (R.I.) Journal covers baseball for ESPN.com.
EDITORS' PICKS
The Tigers battered the Royals to up their lead in AL Central.
Recap

Russell Martin's homer powered the Pirates past the Brewers.
Recap

Clayton Kershaw's season ranked among top 20.
Top 20 »