Bang for their bucks
The Angels and Red Sox shared a common offseason goal, spend heavily to ensure they would be contenders.
Originally Published:
August 31, 2004
By
Sean McAdam
| Special to ESPN.com
Last fall, the Anaheim Angels and Boston Red Sox ended nearly three weeks apart, but with the same general disappointment and emptiness.
The Angels were done when the regular season concluded, a humbling finish considering that, 11 months earlier, they had won their first world championship.
But in 2003, injuries and poor performance dropped the Angels into third place in their division, with a record under .500 and the nagging feeling that the previous season had been a mirage. Or fluke. Or both.
The Red Sox, meanwhile, grabbed the American League wild card, rebounded from an 0-2 deficit in their Division Series with Oakland, only to fall hard after coming within five outs of their first pennant in 17 years; to say nothing of their first World Series title in 85 years.
Almost immediately, both teams began the process of rebuilding for this season. Both pursued players aggressively and spent liberally.
So far, so good. With just over a month to go, the two are separated by a mere game and a half in the AL wild-card standings and still in contention in their respective division races.
As they begin their third -- and most important -- series of this season Tuesday night, a look at the makeovers that have taken place since last fall: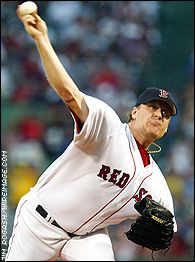 Curt Schilling has thrived in Boston's baseball-crazy environs.
BOSTON: For decades, it seemed, the Red Sox had the same approach to every problem: more offense.
Pitching not deep or dependable enough? Add more hitting. Unable to catch the ball or run the bases? Get more bat. But last fall, general manager Theo Epstein immediately went about the task of bolstering the team's pitching staff. Within two weeks of his team's meltdown against the Yankees in the ALCS, Epstein began pursuing Curt Schilling at the GM meetings.
Rebuffed initially, he persisted, until, days before Thanksgiving, he had an agreement in place with the Diamondbacks for a multi-player trade. Next came the hard part: convincing Schilling to rescind his no-trade clause and work out a contract extension.
That done, he turned his attention to the other obvious area of weakness: the bullpen.
Epstein had been pilloried for his decision to open the 2003 season with a "closer-by-committee'' approach. It wasn't until June, when newly acquired Byung-Hyun Kim took over the closer's role, that a semblance of order appeared in the bullpen.
By October, however, Kim had regressed, seemed unable to pitch successfully against the Yankees and enraged the organization by flashing the home fans an obscene gesture in the first round of the playoffs.
The Sox, it appeared, were right back where they started: without someone to counter Mariano Rivera in the ninth inning.
Epstein engaged in a fierce bidding war with Oakland GM Billy Beane for Keith Foulke, and Esptein's inherent edge in resources won the battle.
Together, Schilling and Foulke have been every bit as good as advertised. Schilling's 16 wins are as many as any American League starter, and together with Pedro Martinez, gives the Red Sox the winningest twosome among major league starters.
More to the point, the specter of facing the pair three times in a five-game series -- or five times in a seven-game series -- is chilling for opponents. Schilling has a justly-earned reputation as a big-game pitcher (career postseason ERA: 1.66) and a burning desire to beat the Yankees in October again -- this time for the Red Sox.
Foulke's save total (24) is relatively modest, that's misleading. Almost a quarter of the Red Sox' victories have been by five runs or more, meaning Foulke hasn't been needed -- or used as much as he would like, at times. Still, there's no denying his impact.
Despite the contributions from the two big offseason acquisitions, Epstein was far from done in reshaping his roster. Literally minutes before the July 31 trade deadline struck, he sent popular shortstop Nomar Garciaparra off in a four-team deal that netted Orlando Cabrera and Doug Mientkiewicz.
In addition to improving the team's sometimes brittle clubhouse mix, the team greatly improved the infield defense at two positions: short and first. After committing errors and allowing unearned runs at a sometimes dizzying pace in the first four months, the Sox have allowed just five unearned runs since Aug. 1 and playing easily their best baseball for the season.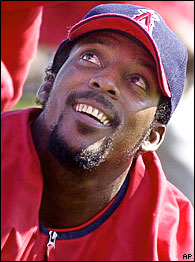 AP PhotoVladimir Guerrero has erased doubts about his durability.
ANAHEIM: The Angels were no less busy in the offseason, but were a little less conspicuous.
Their two biggest offseason signings (Vladimir Guerrero and Bartolo Colon) each seemed to catch the baseball world by surprise. In each case, the Angels seemed to emerge as the 11th-hour landing spot for both Dominican stars.
Guerrero has been a revelation. Sure, people knew of his immense talent level, but having spent his entire career in Montreal, he was generally overlooked.
Not so in Anaheim, where his howitzer-like throwing arm and ability to put his bat on seemingly any pitch has been astounding. Additionally, Guerrero has proven to be highly durable, playing in all but five of the team's first 130 games. That must be particularly hard to hear for the Mets and Orioles, each of whom showed interest, only to back off out of concerns for Guerrero's back troubles.
If the season were to end today, Guerrero would finish -- at minimum -- in the top five in the American League MVP balloting. A strong finish which carries the Angels into October could make him the winner.
Colon has been nowhere near as consistent. In fact, for the first half, Colon looked like a colossal (in every sense of the word) bust. Out of shape and strangely ineffective, he finished the first half with a bloated 6.38 ERA.
Since the break, however, Colon has nearly cut that figure -- if not his own -- in half, going 7-2 with a 3.62 ERA. If nothing else, Colon gives the Angels a bona fide No. 1 starter to open a postseason series, something they lacked even in 2002 when they won it all. That's assuming, of course, that he pitches more like he is now, rather than the way he pitched in his first three months in an Anaheim uniform.
Nearly lost in the hoopla surrounding the signing of Colon and Guerrero was the addition of Jose Guillen, who had turned into something of a baseball nomad in recent seasons.
In fact, Guillen was slowly morphing into Reggie Sanders, changing his address almost annually. Since 2001, Guillen has been with five different organizations -- Tampa Bay, Arizona, Cincinnati, Oakland and now the Angels.
Quietly, he's nearly matched Guerrero's output. He has 26 homers to Guerrero's 28; a .304 average to Guerrero's .331: and a .528 slugging percentage compared to Guerrero's .571. In fact, he's actually ahead of Guerrero in the RBI department: 102 to 101.
Together, Guerrero and Guillen have upgraded the outfield defense and helped make up for the downturn in production from Garret Anderson and the earlier loss of Darin Erstad and Troy Glaus. Where would the Angels be without them? Dangerously close to their also-ran status of a year ago, quite likely.
Unlike Epstein, GM Bill Stoneman didn't do much retooling at the trading deadline. But thanks to the return from the DL of first Erstad and now Glaus, he has the equivalent of two second-half additions to an already powerful lineup.
Sean McAdam of the Providence (R.I.) Journal covers baseball for ESPN.com.
SPONSORED HEADLINES
MORE MLB HEADLINES
MOST SENT STORIES ON ESPN.COM