It's Beltran ... and all the rest
Carlos Beltran tops the list of a solid, but not spectacular group of free-agent outfielders.
Originally Published:
November 12, 2004
By
Sean McAdam
| Special to ESPN.com
Stangely, there isn't a great collection of outfielders this winter. In terms of quality and quantity, it probably pales in comparison to the shortstop class and pitching group.
Not that there aren't some great players available. Or some who have slipped and can be great again.
But beyond the top few outfielders available, the rest of the list is rather average for a position that usually has such star power.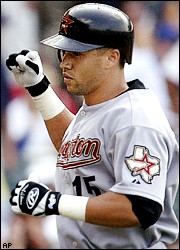 APBeltran hit .435 with eight homers in his first postseason.
Here's a look at the 10 best outfielders, divided by ability and value.
Head of the class
Carlos Beltran: He isn't just the best outfielder in this free-agent class; he's the best player, period.
Whether he lands a 10-year deal close to $200 million is a matter for debate. What's not in question is that Beltran is a switch-hitter with power, speed and a great glove.
What's more, Beltran is just 27, making him that rare free agent who is just now hitting the prime of his career. Not since Alex Rodriguez has a player this good and this young hit the open market.
Of course, it's exactly that precedent which will preclude some teams from getting into this bidding war. Having seen the fallout from A-Rod's deal, some teams will be loath to get into that financial pickle.
But strictly on talent, Beltran is the most desired player available.
The next best things
Magglio Ordonez: Were it not for a knee injury that knocked him out for most of the 2004 season, Ordonez would be just a cut below Beltran.
Like Beltran, he's relatively young (he turns 31 in January) and remarkably consistent. Before this season, he had reached 30 homers and 100 RBI in four of his previous five seasons. The one year he didn't (2003), he missed by one homer and one RBI.
Of course, his health is going to be an issue, although Ordonez said he's already close to being 100 percent -- with the rest of the winter still to work out.
2004 SEASON STATISTICS

G
R
HR
RBI
OBP
AVG
145
118
31
93
.436
.305
J.D. Drew: And speaking of health ...
Drew finally stayed on the field all season, his first with the Braves, and showed what kind of player he can be.
Until 2004, Drew had never played more than 135 games or recorded more than 424 at-bats. But this year, Drew was both durable and productive for Atlanta, playing in 145 games and posting 518 at-bats. He hit .305 with career highs in homers (29) and RBI (91) and could prove to be one of those rare players who -- like Paul Molitor -- was healthier and productive in his thirties than he was in his twenties.
Drew is probably the second-best defender in this group after Beltran, further enhancing his value.
Moises Alou: This wasn't exactly an off-year for Alou -- not when he hit 39 homers with 106 RBI while batting .293 -- but it wasn't a great one either, when you consider the Cubs' disappointing fold down the stretch and Alou's involvement in some petty, off-field issues.
After some health issues -- he had missed all of 1999 and then never played more than 136 games from 2000-02 -- Alou has averaged playing in 153 games over the last two seasons.
Still, at 38, Alou is unlikely to get much of a long-term deal. He has said he would love to play for his father in San Francisco and his presence there would provide some protection for Barry Bonds.
But with Bonds in left, where would Alou play?
Just a cut below
Richard Hidalgo: This was the Tale of Two Seasons for Hidalgo.
He did virtually nothing with the Astros (.256-4-30) over the first third of the season, prompting a trade to the Mets, where he rediscovered his stroke and briefly gave the Mets some thoughts about winning the NL wild card.
He hit 21 homers and knocked in 52 runs in 86 games with the Mets but also struck out 76 times in just 324 at-bats while hitting a mere .228.
Powerful but streaky, Hidalgo will help someone, somewhere, though he might be best utilized in the American League, where he could DH some. And he better be prepared to make a massive pay cut, too.
Steve Finley: The subject of an intense bidding war at the trade deadline, Finley went from Arizona to Los Angeles and helped the Dodgers win the NL West.
In 58 games over the final two months, he hit 13 homers with 46 RBI and seemed genuinely energized to be back in a winning atmosphere.
Though he'll be 40 in spring training, Finley is in remarkable shape and can still play. Like Alou, however, he'll have to take a shorter-term deal. If he doesn't stay in L.A., returns to either San Diego or Arizona can't be ruled out.
2004 SEASON STATISTICS

G
R
HR
RBI
OBP
AVG
137
87
23
80
.329
.265
Older, but useful
Jermaine Dye: It took Dye almost two full seasons to recover fully from the freakish broken leg he suffered in the 2002 ALDS, but he rebounded this season to hit .265 with 23 homers and 80 RBI for the A's.
He's still a pretty good outfielder and can play right, increasing his attractiveness to bidding teams. His .329 on-base percentage, however, may scare an equal number of teams off.
He's likely too expensive for Oakland's tastes but won't have much difficulty finding a spot somewhere, albeit one with a big decrease in pay.
Jeromy Burnitz: After bouncing all over the National League for the previous three seasons -- he played with the Brewers, Mets and Dodgers -- Burnitz settled in Colorado.
Not surprisingly, Coors Field was the place to get his career going again, at least offensively. There, he nearly equaled his career high in homers, hitting 37 while knocking in 110 runs.
Nearly 36, Burnitz can still slug, though he, too, might be better suited to move to the AL, where he can spend some time at DH.
Capable role players
Ben Grieve: Hard to believe, but Grieve is only seven years removed from being the AL rookie of the year.
In the last year, he's been traded twice and now finds himself on the market, about to join his fourth team in the last two seasons. He could help someone in a platoon role or as a fourth outfielder, but anything more would be a reach at this point.
Gabe Kapler: He was useful to the Red Sox, especially when Trot Nixon missed about half of the season with a succession of injuries. He's a capable outfielder, smart baserunner and good teammate.
For an affordable price, he could be a key reserve for a good team -- or play regularly for a team in a rebuilding process.
Sean McAdam of the Providence (R.I.) Journal covers baseball for ESPN.com.
SPONSORED HEADLINES
MORE MLB HEADLINES
MOST SENT STORIES ON ESPN.COM
EDITORS' PICKS
A path to the playoffs for all teams in the AL East.
David Schoenfield »

The deal sending Matt Kemp for the Dodgers to the Padres has been agreed upon.
Story »

Trouble ahead?