GMs throw cash to the wind
So much for fiscal restraint. Free-agent signings like J.D. Drew are proof the money is flowing nicely in MLB.
Originally Published:
December 27, 2004
By
Sean McAdam
| Special to ESPN.com
Everything was in place. General managers warned that the "market correction'' which was first evident two offseasons ago, would continue. Major League Baseball, narrowly skirting around the issue of collusion, offered salary guidelines to its clubs, suggesting what players could be "slotted,'' just as happens with the NFL draft.
This was to be the continuation of a brand new era of fiscal sanity in baseball, a sober accounting of money well spent. No more bidding against themselves. No more silly, super-long guaranteed deals to players of questionable value.
Baseball was getting its financial house in order. No more profligate spending.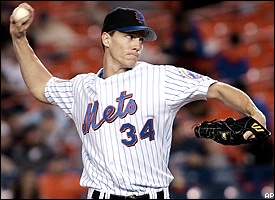 Kris Benson's deal set a high standard for mid-rotation starters.
But somewhere along the way, something happened. The market didn't get corrected after all. Baseball salaries, which had leveled after years of unchecked inflation, have spiked again.
First, Kris Benson hauled in $22.5 million over three years. Then Troy Glaus got $45 million over four years. Eventually, Adrian Beltre hauled in $64 million over five years.
So much for the reasoned approach. So much for careful financial expenditures.
Don't look now, but baseball is spending like sailors on shore leave. And it's not just how much; it's also how long. After a virtual moratorium on deals longer than three seasons last winter, the signing of Orlando Cabrera, J.D. Drew and Jason Varitek last week means 11 players have been inked to contracts of more than three years. Carlos Beltran -- to name another -- is sure to make that list, as well.
"It just goes to show that there are so many people out there who can't control themselves,'' sighed one general manager. "They talk a good game, but it doesn't last. I'll tell you what -- this game is in trouble. It needs a salary cap, and fast.''
The frustration is more palpable among small-market general managers who must do more with less. Even in the best of times, that's a challenge. But when the big-market teams take the wraps off their checkbooks and begin unchecked spending, the small-market teams have virtually no chance to compete.
Why, after moderate spending the last couple winters, have teams begun to spend again?
"Because the revenues are there,'' suggests a top agent matter-of-factly. "There's a lot of money being made in this game, from new stadium deals to media deals. It's been said before, but it's true: if they didn't have it, they wouldn't spend it.''
Another GM presents a theory: "It was kind of the perfect storm of markets. A number of factors came together to send it out of control.''
Among them:
Increased revenues: These differ from market to market, but one universal windfall is the new MLB/XM Satellite Radio deal which resulted in a payout of approximately $4 million to each franchise. That's not enough to land a marquee player, but it's not insignificant either and is a far greater sum than many franchises make with their own local radio rights.
| | | |
| --- | --- | --- |
| | " | The Mets didn't do anyone any favors with (their signing of Kris Benson). But, on the other hand, if everyone is doing crack at a party, it doesn't make it right. " |
| | | — A general manager |
Outside influences: The Detroit Tigers, for example, have been one of the most aggressive bidders in the market, landing only Troy Percival to date, but attempting to sign -- and thus influencing the market for -- Glaus, Edgar Renteria and Carl Pavano. Thanks to the NHL lockout, Tigers owner Mike Illitch doesn't have the operating costs for his Red Wings, so he can afford to free more capital for his baseball club.
Internal pressures: High-revenue teams like the Seattle Mariners can't afford consecutive poor seasons because their fans won't stand for it. So they spend -- freely and quickly -- to attempt to become competitive again overnight. In the span of a few days, the Mariners lavished $112 million on Beltre and Richie Sexson. "What's ironic,'' notes a rival GM of Seattle's moves, "is that when they had a legitimate chance to win (in 2002 and 2003), they wouldn't spend (to improve at the trading deadline). Now, they're spending like crazy. Do they really think those two guys (Sexson and Beltre) are going to turn it all around for them?''
New kids in town: There's nothing like a newly hired general manager with a mandate to improve to send salaries skyrocketing. Omar Minaya of the New York Mets was charged with making his team relevant again, so he nabbed Pedro Martinez and has bid for Sexson, Carlos Delgado and others. Of course, each signing influences the market. Most executives surveyed cited Benson's deal with the Mets as a bad trend-setter. It wasn't long before the money was boosted for the likes of Jaret Wright, Brad Radke, and Russ Ortiz. "(The Benson deal) didn't help,'' agreed one general manager. "The Mets didn't do anyone any favors with that one. But, on the other hand, if everyone is doing crack at a party, it doesn't make it right.''

Said another front office executive: "Everybody wants to talk about the betterment of the game, but at the end of the day, everyone covers their own ass. A team like the Mets wants to win; they don't care about setting the bar for everyone else.''

Still others point to the Glaus deal as not only curious but influential.

"Here's a guy who was injured for most of the last two seasons,'' offered another general manager, "and a team that everyone thought had enormous debt problems. And yet, somehow, (the Diamondbacks) give him $45 million over four years. How does that happen?''

Some of it, simply, is market-driven.

"The temptation was greater this year,'' suggested one GM. "Think of the bats that were out there this year. Last year, it was basically just (Vladimir) Guerrero. This time, there were more guys to choose from.''

Given more options, in other words, teams couldn't restrain themselves. All the promises about budgets and responsibility lasted about as long as next month's New Year's resolutions will.

Sean McAdam of the Providence (R.I.) Journal covers baseball for ESPN.com.
EDITORS' PICKS
Kevin Cash and the Rays are creating a new identity.
Jayson Stark »

White Sox ace Chris Sale will miss at least three weeks.
Doug Padilla »

Martin Prado was a big pickup for the Marlins.
Buster Olney

MOST SENT STORIES ON ESPN.COM