Boston's bid is the talk of Japan
Originally Published:
November 15, 2006
By
Jim Allen
| Special to ESPN.com
TOKYO -- This went well beyond a sports story.
The news that a major league team would pay $51.1 million to acquire the negotiating rights to a Japanese player shook the nation on Wednesday.
Daisuke Matsuzaka, his team and the Japanese public at large were stunned by the fee put up by the Boston Red Sox to talk to the 26-year-old Seibu Lions ace.
"When I heard the figure, I couldn't believe it," Matsuzaka told reporters at Narita Airport before boarding a flight bound for Los Angeles. "On one side, I am very happy to hear it, but I also feel some pressure.
"Boston is a famous team, one with great tradition and a great rivalry with the Yankees. I don't know much more about them than that. But I am eager see their ballpark."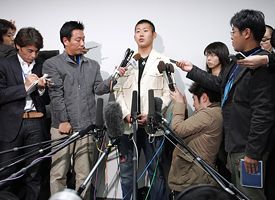 Junko Kimura/Getty ImagesMatsuzaka addresses reporters during a news conference at Narita International Airport.
The news that Matsuzaka was that much closer to becoming Japan's next overseas sensation and the size of the bid have kept the country buzzing.
According to Jiji Press, the fee for Matsuzaka's rights was nearly equal to three times the Lions' entire payroll for 2006.
"We never imagined the number would go that high," Lions president Hidekazu Ota told reporters at a news conference at the club's offices near Tokyo. "I want to use that money for the good of the players and the fans."
Yet even with that much money on the table, not everyone was pleased.
Hall of Fame catcher Katsuya Nomura uttered a common complaint, according to The Nikkan Sports, that Matsuzaka's departure was just another nail in the coffin of the Japanese game.
"Six billion yen, that's amazing," the sports daily quoted Nomura as saying on its Web site. "Still, I can't just go along with the crowd and be happy about that. I can't offer congratulations from my heart.
"The level of Japanese pro baseball is going to continue to decline."
The fear is a real one.
The loss of a drawing card of Matsuzaka's magnitude will hurt everyone. Last season, Lions games drew an average of 3,414 more fans when Matsuzaka went to the mound.
In a time of economic trouble for pro ball here, the defection of yet another star is a harsh blow, but expectations are high that Matsuzaka will further raise the profile of Japan's brand of baseball.
The man whose charismatic play was most responsible for the pro game's skyrocketing popularity 45 years ago, Shigeo Nagashima, expressed mixed feelings. In a report by Sankei Sports, the legendary Giants third baseman and manager, stated his hopes.
"Looking at that amount, you can see Boston has high expectations. I am sure young Matsuzaka will do his best not to betray those hopes," Nagashima said according to the newspaper's Web site. "On the other hand, for Japanese ball, it means yet another star is going overseas and that's sad. One can only hope the baseball community can nurture even more stars."
There was widespread relief that Matsuzaka would be playing in the American League and pitching against the big Japanese names.
Among fans here, the most popular player remains New York Yankees outfielder Hideki Matsui.
Matsuzaka, however, only faced the former Central League slugger in All-Star clashes and in two Japan Series games. Instead, the right-hander has his eye on a major matchup against a more recent teammate -- Seattle Mariners star Ichiro Suzuki, who played alongside Matsuzaka in the World Baseball Classic.
"Of course, I look forward to facing Matsui, but the batter I am most eager to test myself against is Ichiro," Matsuzaka said.
Long before the two were Japan WBC teammates and Matsuzaka was named the tournament's Most Valuable Player, they squared off for two seasons in the Pacific League.
In their first meeting in 1999, five years after Suzuki had become a national hero for his batting wizardry, the 18-year-old Matsuzaka struck out the master of contact hitting three times.
Assuming he signs with the Red Sox, although Matsuzaka will be a major league newcomer, he will be in his prime when he next goes gunning for Ichiro, a scenario that already has Japanese fans -- and travel agents -- salivating.
"I want to congratulate him," Suzuki was quoted as saying on the Nikkan Sports Web site. "I was surprised when I learned he had dreamed of playing in America since he was 10.
"It will be fun to face him again after such a long time, but he'd better practice and come prepared."
In the years since his pro debut, Matsuzaka has morphed from prospect to potential star to the real deal. Always cocky, he now has the poise and conviction of a veteran who is holding all the cards when he deals from the mound.
Off the mound, however, Matsuzaka acted as anyone would upon hearing his dream was a step closer to becoming a reality.
"When the team president told me 'OK,' hearing those words was such a relief," Matsuzaka said. "All this time I had been a bundle of nerves."
Jim Allen covers baseball for The Daily Yomiuri in Japan.
SPONSORED HEADLINES
MORE MLB HEADLINES
MOST SENT STORIES ON ESPN.COM
The Matsuzaka File
NAME:
Daisuke Matsuzaka
POSITION:
Right-handed pitcher
AGE:
26 (Sept. 13, 1980)
HEIGHT/WEIGHT:
6-foot/187 pounds

DRAFTED:
No. 1 pick by Seibu Lions ('98)
MAJOR HONORS:
1999 Pacific League Rookie of the Year
2001 Sawamura Award (top pitcher in Japan)
2006 World Baseball Classic MVP


CAREER STATISTICS
All with Seibu Lions
YR
IP
W
L
BB
K
ERA
'99
180
16
5
87
151
2.60
'00
167.2
14
7
95
144
3.97
'01
240.1
15
15
117
214
3.60
'02
73.1
6
2
15
78
3.68
'03
194
16
7
63
215
2.83
'04
146
10
6
42
127
2.90
'05
215
14
13
49
226
2.30
'06
186.1
17
5
34
200
2.60
TOT
1,402.2
108
60
502
1,355
2.95
STORIES
•
Kurkjian: Posting process needs to be fixed
•
Allen: D-Mat signing double-edged sword for Japan
•
Neyer: Japanese players ... go west
•
Law: Matsuzaka strengthens Sox rotation
•
Olney: Boston brilliant with D-Mat deal
•
Gammons: Red Sox get D-Mat their way
•
Poll: Is he worth the hype?
•
Karabell: Matsuzaka's fantasy value
•
Gammons: Show Matsuzaka the money
•
Allen: Matsuzaka keeps Japan waiting
•
Neyer: Red Sox's new math doesn't add up
•
Crasnick: Sign Matsuzaka or Zito?
•
McAdam: Red Sox can't cry anymore
•
Allen: A stunner in Japan
•
Red Sox bid $51.1 million
•
Crasnick: Respecting "Mr. Matsuzaka"
•
Gammons: Boston's investment plan
•
Vote: Is Matsuzaka worth it?
•
Law: Top 40 free agents
VIDEO
•
Kurkjian: How much pressure he'll face
•
Bobby Valentine's Matsuzaka experience
•
Daisuke strikes a deal
•
Breaking down Matsuzaka deal
•
Is Daisuke finally the one?
•
Matsuzaka headed for Boston
•
Interview with Scott Boras
•
Is Matsuzaka worth $51.1M?
AUDIO
•
Peter Gammons: Red Sox got a bargain
•
Terry Francona: No language issues
•
Buster Olney: Boston's great offseason
•
Tim Kurkjian: Yanks still own AL East
•
Keith Law: A big-game pitcher
•
SI.com's Jon Heyman
•
Dan Patrick and Keith Olbermann