Commentary
Bonds indictment adds pressure to Mitchell investigation
Updated:
November 17, 2007, 3:18 PM ET
By
Howard Bryant
| ESPN.com
For the better part of four years, Barry Bonds has been visible yet untouchable. In 2005, when Reps. Tom Davis and Henry Waxman of the House Government Reform Committee began to compile a list of major league players to testify at what would be the seminal March 17 hearings, Bonds' name was not on the list for fear of interfering with the federal government's ongoing case against Bonds. It was said at the time, with a bitter mix of humor and frustration, that holding hearings on steroids without Bonds was like doing Hamlet without Hamlet.
The following year, MLB commissioner Bud Selig announced he would appoint former Sen. George Mitchell to head an investigation into the sport's steroid culture. Baseball insisted that not only was Bonds not the target of the investigation, but later on that Bonds stood as something of a separate entity, because Mitchell was respectful of the government's investigation of Bonds. Again, Bonds would be present, clearly the baseball equivalent of the elephant in the room, but still somehow distant.
And in the months before Bonds undertook the final step of breaking Hank Aaron's all-time home run record, Selig spoke privately with Bonds and asked him if there was anything Selig and baseball needed to know about his pending case. According to sources familiar with the meeting, Bonds told Selig, who at the time was contemplating how -- or if -- baseball would celebrate Bonds breaking the Aaron record, that there was not. It was at least the third major moment when the specter of Bonds loomed over baseball without direct confrontation.
[+] Enlarge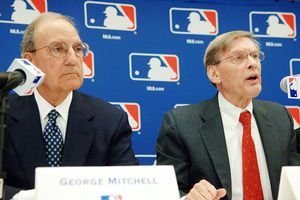 Bryan Bedder/Getty Images Commissioner Bud Selig, right, must contend with recommendations from George Mitchell, left, who is investigating steroids in baseball. A key question now is how will Mitchell explain Barry Bonds' role in the steroids era?
With the federal indictment of Bonds on Thursday, the mystery element of the steroid saga is over. Bonds has not been convicted of a crime -- his arraignment is scheduled for Dec. 7 -- but his legacy, already damaged, now is virtually unrecoverable. Outside of San Francisco, he long ago lost the public. Inside of baseball, executives at the highest level have long believed any form of steroid-era closure could not exist while Bonds still was in uniform. He most likely will not play baseball again. And according to federal statistics compiled last year by the Pittsburgh Post-Gazette, 99 percent of the 435,000 federal criminal indictments brought forth between 2000 and 2005 resulted in a conviction.
Before the indictment, Bonds -- and many of his supporters -- clung to his never failing a drug test, a detail that, if nothing else, provided hope that perhaps Bonds was clean, despite circumstantial evidence to the contrary. That he never was caught by baseball and for years had not been charged or convicted of any wrongdoing emboldened him and his supporters, even to the point of suggesting that Bonds was merely the innocent target of overzealous prosecutors. Thursday shattered the calm.
Regardless of its current stage, the anticipated Mitchell report now is faced with perhaps its most important challenge: determining how it will examine and explain Bonds' impact on baseball's past and future. Bonds did not meet with Mitchell and has been treated on a separate, parallel track to the larger investigation, but now stands as baseball's home run champion while facing up to 30 years in prison for perjury and obstruction of justice.
It stands that even without a conviction, the Mitchell report will need, in some fashion, to address Bonds, if for no other reason than to provide a confident road map for the sport going forward. He stands too large to be obscured as one of many players who tainted an era. Part of the mission of the investigation is to provide a comprehensive, official report of baseball during the past several years in regards to its culture and relationship with performance-enhancing drugs. For the past 19 months, Mitchell has met with personnel from all 30 teams, and his report is expected by the end of the year.
But another element is to provide context for what has transpired over the years and to offer suggestions and recommendations for the future. It is here where the indictment both increases the pressure on Mitchell to produce a firm, lasting document and empowers Mitchell to discuss Bonds, especially the effect on baseball of his holding the most important record in the sport.
Of the 41 50-home run seasons since 1921, 23 have come since 1995. The top six home run marks have been set since 1998. The record that once inspired generations now inspires scorn. Baseball believes itself to be in a golden age, yet Aaron ran from discussion of his great record as if it were some nasty contagion. Bonds now could carry the record to prison.
In the past few weeks, Selig has said he will listen to the recommendations Mitchell will include in the report, and Mitchell now has an opportunity to link his report with tangible action. Without the shield of an ongoing investigation, Mitchell now can be more forceful than ever, and he might need to be if he wants to be taken seriously.
[+] Enlarge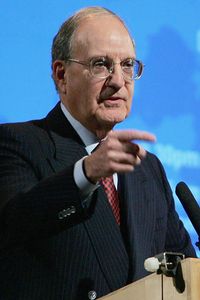 Matthew Lewis/Getty ImagesMitchell has met with personnel from all 30 Major League Baseball teams, and his report on steroids in baseball is expected by the end of the year.
He could suggest that Bonds' feat be stricken from the record -- not because it might be his preference, but because of the case being made in the indictment. It was Frank Robinson, he of 586 home runs, and Mitchell's former colleague Jim Bunning who said that any player found to have definitively used performance-enhancing drugs should have his marks erased.
Mitchell could suggest no direct sanction of Bonds and say Bonds is a cautionary tale, proof of the damage done to baseball -- both in global standing and the historical record -- and allow the federal action to take its course. The result of U.S. v. Bonds, after all, will speak for itself, for Bonds undoubtedly will join Mark McGwire as a fallen star who kept his money but lost his name.
There are numerous roads Mitchell could take, ranging from direct advocacy of penalties -- for Bonds and the rest of the players who disgraced themselves and their sport -- to a more measured informational approach.
But, he must say something.
For it is now clear -- amorphous discussions of asterisks aside -- that if Bonds is convicted, a federal jury will have concluded that the home run champion used illegal drugs to reach his goal. The question for Mitchell then will be whether he could allow that to stand and consider that progress.
Bonds now is a less shadowy figure than before. And with Bonds' indictment, the Mitchell investigation is quite possibly the last, most powerful word of the steroid era.
For the 19 months of his investigation, the assumption -- unfortunately for Mitchell, widely accepted as fact -- has been that he is working for Selig. But he also is speaking for the fans of the game, and in a historical sense, the game itself.
And that is a responsibility that goes far beyond Selig or Bonds. It is a responsibility that will shape Mitchell's legacy as much as those of the people who might be named in his report.
George Mitchell will have one opportunity to speak with the kind of authority unprecedented during this period of drugs and cynicism, high revenues but lost integrity. The question is whether he will use the power he possesses.
Howard Bryant is a senior writer for ESPN.com and ESPN The Magazine. He is the author of "Shut Out: A Story of Race and Baseball in Boston" and "Juicing the Game: Drugs, Power and the Fight for the Soul of Major League Baseball." He can be reached at Howard.Bryant@espn3.com.
Senior Writer
Senior Writer, ESPN.com and ESPN The Magazine
Author of "The Last Hero: A Life of Henry Aaron"
Author of "Juicing the Game"
BARRY BONDS INDICTED

Barry Bonds was indicted for perjury and obstruction of justice, charged with lying when he told a federal grand jury that he did not knowingly use performance-enhancing drugs.
News
•
Bonds pleads not guilty to refiled federal charges
•
Judge unseals Bonds testimony
|
Read it (pdf)
•
Bonds' lawyers set to make request for dismissal
•
Prosecutor cleared to work Bonds perjury case
•
Bonds asks judge to dismiss perjury charges
•
Bonds seeks to keep legal team in perjury case
•
Hearing to determine lawyers' conflict of interest
•
Bonds pleads not guilty; Feb. 7 next court date
•
Fish: Defense could challenge Bonds' positive test
•
Report: Agent says Bonds wants to play in 2008
•
Bonds lawyer shopping as arraignment nears
•
Bonds' new judge presiding over BALCO cases
•
Old friends-turned-foes to testify against Bonds
•
Bonds' trainer still won't testify if case goes to trial
•
Bonds indicted on perjury, obstruction charges
•
Bonds' trainer gains release after year in prison
•
Bonds latest name on sports' infamous legal list
•
Timeline: Bonds and steroid allegations
Analysis
•
Bryant: Remembering McGwire while Bonds is arraigned
•
Fainaru-Wada/Quinn: Answers to key questions as Bonds begins legal journey
•
Nelson: Bare market for Bonds
•
Bryant: Bonds a misguided martyr
•&nbsp
Hill: Indictment is just plain wrong
•
Olney: All roads lead to infamy

•
Fainaru-Wada/Quinn: Path to indictment
•
Bryant: Bonds case puts pressure on Mitchell
•
Olney: Era of dishonesty

•
Wojciechowski: Bonds' dare backfires
•
Fish: Bonds' positive test didn't come from MLB
•
Munson: Don't expect Bonds to cop a plea
•
ESPN.com: How should MLB react?
•
Kreidler: Mixed reaction in Bay Area
•
Neyer: How bad is it?

•
For the record: Legal definition of perjury
The indictment
•
United States v. Barry Lamar Bonds
SportsNation
•
Polling the reaction of SportsNation
ESPN Video
•
Indictment may end career
•
Bonds' attorney speaks out
•
Roger Cossack's take
•
Will Bonds be in the Hall of Fame?
•
Will Bonds play again?
•
Was race a factor in indictment?
•
Charles Barkley weighs in on Bonds
•
Buster Olney on Bonds
•
Steve Phillips on Bonds and A-Rod
ESPNRadio.com
•
Peter Gammons: A sad ending

•
Baseball Today: Peter Pascarelli
•
Shaun Assael on timing
•
Cossack on the indictment

The HR Chase
•
Bonds: Beyond 756
Background
•
The Dope On Steroids

MOST SENT STORIES ON ESPN.COM