Commentary
Players shouldn't sit alone on congressional hot seat
Updated:
January 14, 2008, 5:02 PM ET
By
Howard Bryant
| ESPN.com
Despite the high entertainment value of the bizarre catfight between Roger Clemens and Brian McNamee, the announcement that their appearance before Congress had been postponed until next month was the best possible news for anyone interested in steak over sizzle.
Only the Powers That Be -- commissioner Bud Selig, MLB Players Association head Donald Fehr and former Senator George Mitchell -- will testify at the House Committee on Government Reform hearings Tuesday, and for the first time since the Mitchell report's release real questions can be asked of the only people who actually have the answers.
The question is whether committee chairman Henry Waxman, D-Calif., and ranking minority Republican Tom Davis -- their roles were reversed during the last go-round -- really want answers or just an opportunity to flash the secret Capitol Hill handshake to Mitchell, who for so long was one of them.
At present, the entire discussion of the Mitchell report has been painfully similar to the dialogue that preceded it: Get the players. Mitchell said it was never his intention to focus only on the players, but that is precisely what has happened. Because management, ownership and Mitchell himself have gone largely silent and unchallenged, the end result has nevertheless been the same.
[+] Enlarge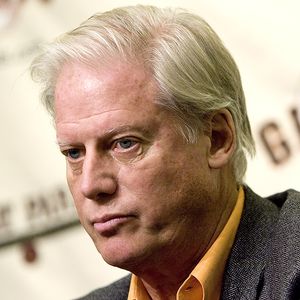 David Paul Morris/Getty ImagesWill San Francisco Giants owner Peter Magowan ever face the kind of scrutiny some Major League Baseball players have faced so far?
Waxman and Davis have never had a better opportunity to refocus the discussion. If they don't take advantage of it, their credibility could dip to the same level as Selig's or Mark McGwire's: all talk and no action.
Ostensibly, the goal of congressional involvement beginning with the March 2005 hearings had been to make the connections that gave birth to the steroids era -- connections that men like Selig and Fehr said did not exist. But despite the fact that the most revealing and thorough sections of the 409-page Mitchell report revolve around the culpability of management, this latest interpretative dance of the report has circled around only Clemens and the players.
The goals of the report, and the interest of Congress, were to find out which players were using performance-enhancing drugs, how the pipeline for steroids into major league clubhouses was created, and how steroid and growth hormone use was allowed to continue.
The proof of an organized, tacitly acknowledged drug culture exists in the Mitchell report, officially stamped by Selig. But curiously, no one has asked for an official, under-oath explanation from upper management. In some cases, personal trainers served as conduits, while general managers and owners allowed the pipeline to exist, circumventing their own rules by making personal trainers team employees over the objections of their own medical staffs.
Waxman, a critic of Selig who famously suggested three years ago that it might be time for Selig to resign, must now ask Selig how the San Francisco Giants, especially general manager Brian Sabean and owner Peter Magowan, have been allowed to skate despite their revealing and devastating appearance over pages 121 through 135 of the report. That free pass extends to Boston Red Sox general manager Theo Epstein; his top scout, Ben Cherington; the Los Angeles Dodgers' front office; and a host of scouts for various major league teams whose culpability was exposed by Mitchell with apparently no cost to them or their teams.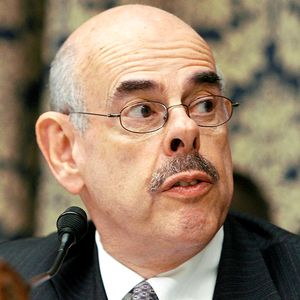 Chip Somodevilla/Getty ImagesRep. Henry Waxman, D-Calif., will chair Tuesday's hearing, which includes Don Fehr and George Mitchell in addition to Selig.
Waxman and Davis need to ask the commissioner why, as Clemens and scores of players fight for their reputations, he has chosen to avoid disciplining -- or barely acknowledging -- the management side of the ledger.
The public has demanded accountability from Barry Bonds, yet the sport has seen no greater cowardice than Sabean's and Magowan's actions detailed in the Mitchell report. It describes how Giants trainer Stan Conte told Sabean that Bonds' trainer, Greg Anderson, approached players about selling them anabolic steroids, and Sabean did nothing about it. In an apparent attempt to deflect blame for his decision to put Anderson on the Giants' payroll, Magowan stated in the Mitchell report that he asked Sabean if his team "had a problem" with Anderson, meaning if Sabean knew that Anderson was dispensing steroids. It is a conversation, according to the report, that Sabean "strongly denied" ever took place. It is a game of passing the buck that requires answers.
As much as any team in baseball, the Giants, who were once on the verge of leaving town, profited from performance-enhancing drugs, but have been held the least accountable.
"Our organization has diligently and fully cooperated with Senator Mitchell throughout his inquiry," Peter Magowan said the day after the report was released. "We believe that Senator Mitchell's thoughtful and comprehensive report will serve as a meaningful tool in the fight against the use of performance-enhancing drugs. The report clearly demonstrates the pervasiveness of the problem. The Giants accept our fair share of responsibility."
Baseball on The Hill
• Has Bud Selig done enough to fight performance-enhancing drugs in baseball, or will he be lambasted again by a congressional subcommittee on Tuesday? Some of his legacy hangs in the balance, write T.J. Quin and Mark Fainaru-Wada. Story
• Don Fehr and Bud Selig can expect to be grilled by a House committee on Tuesday about findings in the Mitchell Report that indicate they could have responded sooner to baseball's steroids problem, writes ESPN.com's Lester Munson. Story
Magowan has taken no responsibility. He hasn't answered the question of how and why he allowed his portion of the drug chain -- granting access -- to exist. Yet the light continues to shine on the players.
Clemens' war with McNamee landed them both before Congress, but New York Yankees executives have not been asked to testify about their decision to succumb to Clemens' wishes and put McNamee on their payroll, giving McNamee, like Anderson, team-sanctioned access to build a client list from inside their clubhouse.
The result is a certain predictability about the coverage of the steroids era and the game's strategy for dealing with its fallout. We're also left with a nagging pessimism that Congress has far less interest in confronting the critical elements of the report than with punishing Clemens for having the nerve to question it -- and Mitchell, a former member of the Capitol Hill club -- publicly.
In a sense, it is the most American of reflexes: focus on the individuals while leaving a corrupt culture intact.
[+] Enlarge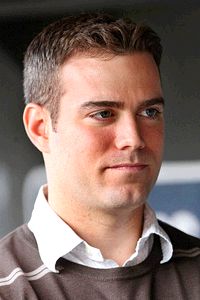 Tom Szczerbowski/US PresswireBoston Red Sox general manager Theo Epstein and other front-office executives should be questioned about what they knew, too.
Following the Pete Rose betting scandal, baseball removed pay phones from clubhouses to discourage the placing of bets. After the cocaine convictions of the 1980s, the game posted signs on the door of every clubhouse prohibiting entrance to anyone not affiliated with the team, the league or the media.
But in the late 1990s, to create perks for star players, teams such as the Giants and Yankees allowed star players to give clubhouse access to their entourages. Bonds cronies Greg Anderson and Harvey Shields became team employees. McNamee joined the Yankees, and according to the report was paid by the Yankees and Clemens personally.
By doing so, front-office executives of teams provided a ready-made client list for steroid dealers like Anderson and subdistributors -- McNamee served as a conduit for the indicted Kirk Radomski -- like McNamee.
While Clemens has watched his reputation crumble, the Yankees' front office must take some responsibility for exposing players to steroid distributors and compromising the positions of the team's own trainers. According to page 170 of the report, "In 2000, the Yankees hired McNamee as the assistant strength and conditioning coach under Jeff Mangold. According to McNamee, the Yankees hired him because Clemens persuaded them to do so. In this capacity, McNamee worked with all of the Yankee players."
But at the bottom of the page, footnote No. 388 states that "in his own interview, Mangold was reluctant to discuss McNamee in any respect."
Epstein and scouts from the Los Angeles Dodgers and the Florida Marlins should explain their discussions regarding the steroid use of players they sought to acquire, such as Paul Lo Duca and Eric Gagne.
In the case of the Giants, Sabean would not back even their own trainer, Stan Conte, in standing up to Bonds, even if it meant allowing a steroid dealer access to his players.
Page 122 of the report states:
"During spring training, Conte met with Giants general manager Brian Sabean to express his concerns about the presence of Anderson and [another member of the Bonds entourage Harvey] Shields in the clubhouse, weight room and other restricted areas. Conte felt strongly that personal trainers should not have such access, particularly where, as here, he viewed the trainers to be unqualified.
"Sabean told Conte that if Conte objected to Anderson and Shields' being in the clubhouse, Conte should order them out himself. Conte said he would do this if Sabean would support him when Bonds complained, which Conte believed would be the result of his actions. Sabean did not respond to this request for support, leading Conte to believe that Sabean would not do so if Bonds protested. Conte therefore decided to take no action to deny Anderson or Shields access to restricted areas."
[+] Enlarge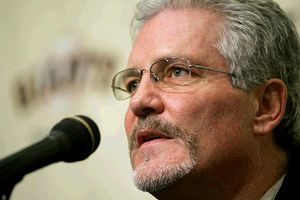 AP Photo/Eric RisbergThe public deserves to hear what San Francisco Giants general manager Brian Sabean would say under oath about steroids in baseball.
Page 124 of the report states:
"In August 2002, the Giants were visiting Atlanta for a series with the Braves. At the time, Anderson was traveling with the Giants. Conte recalls that during this series a Giants player asked Conte about anabolic steroids. Conte refused to identify the player, citing athletic trainer privilege. According to Conte, the player told him that he was considering obtaining steroids from Greg Anderson and wanted to know the health issues associated with the use of steroids. In response, Conte explained at some length the health hazards of steroid use and lectured the player about the unfairness to other players posed by the illicit use of steroids. Conte believed that it was "a good lecture" and that he put considerable doubt in the player's mind.
Conte stated that he reported the incident to Sabean within an hour. He told Sabean he was concerned that Anderson might be distributing steroids to Giants players. While he refused to identify the player who had approached him, Conte otherwise described the conversation to Sabean in detail. Sabean suggested Conte confront Anderson and Bonds about the matter, which Conte refused to do. In Conte's view, it was not the responsibility of the athletic trainer to discuss such an issue."
Yet none of the owners has been called to testify or make a public statement. None has faced public accountability from millions of compromised fans and a distracted press corps that can maintain its attention level only if the conversation remains about star players instead of the front-office machinery that enabled much of the behavior and did as much damage to trust in the game as did star players' falling from grace.
And Mitchell never discusses in depth the implication of that steroid pipeline in the report or that Selig, by approving player contracts that allowed entourages access to team facilities, also is responsible.
Selig is the owners' commissioner, and as such must be asked why Magowan allowed his team to employ a steroids dealer and why Sabean ignored his responsibilities to Conte. If the answer is as it appears -- they were all too afraid to upset Bonds -- they are not qualified to be leaders and should not have their positions. The truth -- that Magowan profited from Bonds to such an enormous extent that he was willing to facilitate illegal and unethical activities by ignoring them -- deserves to be heard as much as which trainer injected which star player.
If not, Waxman needs to call Magowan and Sabean and ask them, just like Clemens, to testify under oath. Bonds and Clemens shouldn't be taken off the hook. But if Congress and the public want the truth instead of merely a Clemens soap opera, some owners and general managers need to be put on it.
Howard Bryant is a senior writer for ESPN.com and ESPN The Magazine. He is the author of "Juicing the Game: Drugs, Power and the Fight for the Soul of Major League Baseball" and of "Shut Out: A Story of Race and Baseball in Boston" He can be reached at Howard.Bryant@espn3.com.
Senior Writer
Senior Writer, ESPN.com and ESPN The Magazine
Author of "The Last Hero: A Life of Henry Aaron"
Author of "Juicing the Game"
SPONSORED HEADLINES
MORE MLB HEADLINES
MOST SENT STORIES ON ESPN.COM
CONGRESS BRINGS BASEBALL TO THE HILL
Baseball commissioner Bud Selig, Mitchell report author George Mitchell and players union executive director Donald Fehr spoke to a congressional committee about steroids in the sport in January. Now, it's Roger Clemens and Brian McNamee who come to Capitol Hill.
Stark's live blog
Round 2
News
•
Pettitte admits additional use of HGH in 2004
•
McNamee: I injected Clemens more than I claimed
•
Jeter says hearings "a bad time for the game"
•
Canseco affidavit backs Clemens' denials
•
Congress hears from PED experts
•
Report: Pettitte affidavit supports McNamee
•
Pettitte, 2 others won't testify at hearing
•
Selig: Third party not needed for drug testing
•
Waxman: Hardin 'attempt to intimidate' a concern
•
Waxman's letter (PDF)
•
Report: Professors refute Clemens' stats analysis
•
Lawyer: Clemens wasn't at Canseco's 1998 party
•
Radomski convinced McNamee holds truth
•
Clemens continues informal hearings on Hill
•
McNamee deposed; Clemens back on Hill
•
McNamee gives evidence to investigators
Analysis
•
Bryant: Hearing about Mitchell and Clemens
•
Helyar: What's at stake for Clemens? Plenty
•
Fish: Radomski made Mitchell report sing
•
Wojciechowski: Congress, take this seriously
•
Munson: Stats professors have Clemens' number
•
Munson Q&A on McNamee evidence
•
Olney: Pettitte tiebreaker between McNamee, Clemens

Round 1
News
•
Congress mixes praise for Selig, criticism of MLB
•
Congress asks for inquiry into Tejada testimony
•
WADA blasts MLB for drug-testing loopholes
•
Report: Mitchell tried to contact Clemens twice
•
McNamee attorney defends immunity request
•
Source: Clemens hedges on giving deposition
•
Source: Clemens not expected to receive immunity
•
Trainer's lawyers alert Congress to second tape
Analysis
•
Bryant: Congress believes MLB getting it
•
Munson: The losers, Tejada, Magowan and Sabean
•
Jayson Stark's day-long hearings blog
•
Quinn/Fainaru-Wade: Selig's legacy in balance
•
Bryant: Hold others accountable, too
•
Munson: Who knew what, and when
The Mitchell report
•
Mitchell delivers his report
|
Read it (pdf)
•
Players: Who's named in the report
•
Recommendations from the report