Commentary
Yankees' fall from grace stems from years of draft neglect
Originally Published:
September 23, 2008
By
Buster Olney
| ESPN The Magazine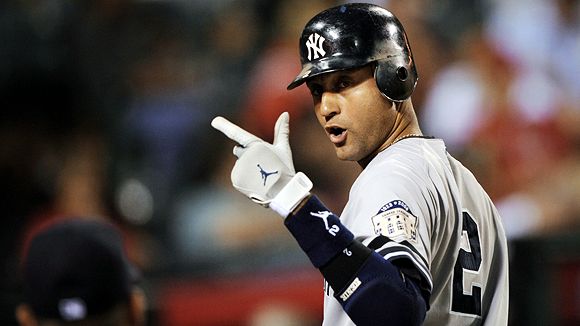 AP Photo/Kevork DjansezianFor the first time in his major league career, Derek Jeter (aka Mr. November) will not play in October.
George Steinbrenner lorded over the staff meetings he attended, and as the
Yankees
prepared for the amateur draft in the spring of 2000, Steinbrenner noted aloud that
Jorge Posada
was moving closer to free agency. "We need a catcher," Steinbrenner said. When it came time for the Yankees to make their first round pick, 28th overall, they called out the name of a catcher. He was David Parrish, the son of Lance Parrish and a University of Michigan product, with the kind of pedigree that Steinbrenner liked and recognized. Parrish also was regarded by executives and scouts with other teams as a fifth-round talent. "No better than that," said one AL general manager. Eight years later, Parrish has yet to play in the big leagues, like the vast majority of the Yankees' picks from 1997 to 2005 -- a period in which the Yankees' drafting and developing has been clearly the worst of any team in the major leagues. The Yankees failed to make the playoffs this season, in large part because the team is paying for its inability to generate young talent, as the
Boston Red Sox
,
Minnesota Twins
,
Cleveland Indians
,
Tampa Bay Rays
and others have been able to do.
[+] Enlarge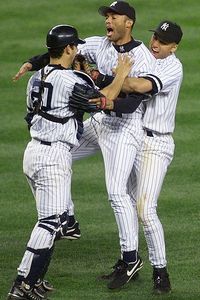 Doug Kanter/AFP/Getty ImagesMariano Rivera, Derek Jeter and Jorge Posada each made his debut with the Yankees in 1995.
Instead, at the end of the 1996-2001 dynasty, which was built largely on homegrown talent such as
Derek Jeter
,
Andy Pettitte
,
Mariano Rivera
and Posada, the Yankees began a period of free spending on veteran free agents, a habit that often exacerbated their player development problem and increased their reliance on older players. The Yankees began shifting their draft philosophy after general manager Brian Cashman began overseeing the player development system after the 2005 season, but they still have a lot of catching up to do. "They're probably two or three or four years behind the Rays and Red Sox and Toronto," an American League general manager said recently. The Yankees chose University of Maryland left-hander
Eric Milton
with their first pick in the 1996 draft, but in the nine drafts that followed, the Yankees' draft and development rate can be assessed as nothing short of abysmal. Consider that in the drafts of 1997-2005:
The Yankees produced a total of 10 position players who have appeared in a major league game; that is the fewest of any team in the major leagues, according to the Elias Sports Bureau.
The 10 position players drafted by the Yankees had accounted for a total of 888 career at-bats as of Sept. 9, which means that not only have the Yankees generated few major league position players, but they have produced no stars, and just a handful of journeymen. The draftees of the Toronto Blue Jays from the same time frame, by comparison, have combined for 27,427 big-league at-bats; the Mets, 11,469.
The Yankees drafted and developed 20 pitchers, which is tied for the 12th-most among the 30 major league teams. However, those 20 pitchers selected by the Yankees have amassed 1,852 2/3 innings in the majors -- the fewest innings for any group of pitchers drafted by any team. The Oakland Athletics' draftees rank first, at 9,686 innings, according to Elias.
The Yankees' thirst for yearly success at the big league level has hurt the team's efforts to regenerate the organization's player development, of course. The unofficial Steinbrenner Doctrine deemed that anything less than a World Series championship has been regarded as a failure. In the moments after the Yankees lost Game 7 of the 2001 World Series to the
Arizona Diamondbacks
, Steinbrenner said aloud in the team's clubhouse, "There are going to be changes."
Not feeling a draft

From 1997 to 2005, the Yankees drafted and developed just 10 position players. In the table below, players are sorted by major league at-bats (through Sept. 9).
Player
Draft
year
Draft
round
ABs
Andy Phillips
1998
3
544
Shelley Duncan
2001
2
131
Brett Gardner
2005
3
77
Kevin Thompson
1999
31
65
John-Ford Griffin
2001
1
23
Mike Vento
1997
40
20
Andy Cannizaro
2001
7
9
Drew Henson
1998
3
9
Bronson Sardinha
2001
1
9
Omir Santos
2001
21
1
And he was right. The Yankees, who already had become a middle-aged team during the dynasty, began relying almost solely on free-agent spending to augment the team, to paper over weaknesses, and the Yankees sacrificed draft picks along the way. From the fall of 2001 through 2005, the Yankees sacrificed nine high draft picks to sign free agents
Jason Giambi
,
Steve Karsay
,
Rondell White
,
Tom Gordon
,
Paul Quantrill
,
Jaret Wright
,
Carl Pavano
,
Kyle Farnsworth
and
Johnny Damon
. In addition, the Yankees' consistent high finishes in the standings -- propped up by the free-agent signings -- naturally hurt their draft position. "The bottom line is that there is a lot of value, in the big picture, to have a down year now and then," said a rival GM, "because that's the only way you're going to have a real shot at the elite talent in the draft. You can't say that out loud to your fans, but that's the truth. You might have someone fall through the cracks to you every once in awhile, but the best draft talent is, generally speaking, going to be at the top of the draft." The Yankees have changed their draft philosophy in recent seasons, selecting the best player on their board, rather than trying to address a specific position, like catcher. They still lack depth among their position-player prospects, but they have done well in landing highly regarded pitching talent, like
Joba Chamberlain
. But the Yankees are at a crossroads again. In the aftermath of the frustrating 2008 season, the Yankees have the option of diving back into the free-agent market again and addressing needs immediately. They will likely pursue
CC Sabathia
, and if they fail to sign him, Hank Steinbrenner already has mentioned the name of
A.J. Burnett
as a possible offseason target. They could also go after first baseman
Mark Teixeira
. If they take that approach, of course, there will, again, be a high-end cost. They probably will lose their first-round draft pick, and their second-round draft pick, and further retard their player development system that was, in the early '90s, the best in the major leagues. A dynasty was born from that, and from that dynasty came the YES Network, support for a new Yankee Stadium -- and an insatiable quest for success that, in the way it was managed, effectively cannibalized the organization.
MLB drafts, 1997-2005 (stats through Sept. 9)

POSITION PLAYERS

PITCHERS

Team
# of players
At-bats
Team
# of players
Innings pitched
Rockies
24
24,186
White Sox
30
7,637
Diamondbacks
23
19,272
Giants
29
5,937.1
Athletics
22
16,434
Athletics
28
9,686
Rays
21
19,987
Braves
28
3,513
Angels
20
11,873
Cubs
25
6,460
Tigers
20
10,154
Royals
24
4,173.2
Cardinals
19
25,096
Cardinals
24
2,124.2
Rangers
19
19,330
Nationals
23
3,200.2
Astros
19
14,600
Blue Jays
22
4,287.2
Royals
19
10,560
Padres
22
3,471.1
Cubs
19
10,214
Pirates
21
4,904
Giants
19
4,455
Diamondbacks
21
4,439.1
Pirates
18
7,533
Rockies
20
4,003
Blue Jays
17
27,427
Red Sox
20
3,849.2
Nationals
16
13,410
Twins
20
3,009
Mets
16
11,469
Yankees
20
1,852.2
Padres
16
9,419
Phillies
19
5,152.2
Dodgers
16
8,610
Rays
19
4,744.2
Red Sox
15
16,296
Orioles
19
2,968
Braves
15
11,183
Mets
18
2,892
Reds
15
10,886
Rangers
18
2,850.2
Brewers
15
10,219
Angels
17
3,815
White Sox
15
8,335
Brewers
17
2,575.1
Marlins
15
6,845
Marlins
16
3,810.2
Orioles
14
13,502
Astros
16
3,000.1
Phillies
13
17,970
Tigers
15
3,609.1
Twins
13
10,776
Mariners
15
2,375
Mariners
13
3,268
Indians
14
4,049.1
Indians
11
7,009
Reds
14
1,906.1
Yankees
10
886
Dodgers
14
1,867.1
Compensation picks
2006 DRAFT
• Signed free-agent center fielder Johnny Damon; the Red Sox drafted pitchers Daniel Bard (28th pick) and Kristofer Johnson (40th pick/supplemental). • Signed free-agent reliever Kyle Farnsworth; the Braves drafted pitcher Cory Rasmus (38th pick/supplemental) and shortstop Robert Fontaine (72nd pick).
2005 DRAFT
• Signed free-agent pitcher Carl Pavano; the Marlins drafted pitchers Jacob Marceaux (29th pick) and Sean West (44th pick/supplemental). • Signed pitcher Jaret Wright; the Braves drafted pitchers Beau Jones (41st pick/supplemental) and Jeffrey Lyman (77th pick).
2004 DRAFT
• Signed free-agent reliever Paul Quantrill; the Dodgers drafted third baseman Blake Dewitt (28th pick) and pitcher Justin Orenduff (33rd pick/supplemental). • Signed free-agent reliever Tom Gordon; the White Sox drafted pitchers Gio Gonzalez (38th pick/supplemental) and Ray Liotta (69th pick).
2002 DRAFT
• Signed free-agent first baseman Jason Giambi; the Athletics drafted pitcher Joe Blanton (24th pick) and catcher Jeremy Brown (35th pick/supplemental). • Signed free-agent reliever Steve Karsay; the Braves drafted shortstop James Greene (65th pick) and pitcher Dan Meyer (34th pick/supplemental). • Signed free-agent outfielder Rondell White; the Cubs drafted pitcher Chadd Blasko (36th pick/supplemental) and shortstop Matt Craig (96th pick).
2001 DRAFT
• Signed free-agent pitcher Mike Mussina; the Orioles drafted second baseman Mike Fontenot (19th pick) and shortstop Bryan Bass (31st pick/supplemental).
1997 DRAFT
• Signed free-agent pitcher David Wells; the Orioles drafted outfielders Darnell McDonald (26th pick) and Ntema Ndungidi (36th pick). • Signed free-agent reliever Mike Stanton; the Rangers drafted third baseman Jason Romano (39th pick/supplemental) and pitcher Chris Tynan (77th pick).
Buster Olney is a senior writer for ESPN The Magazine. He updates his Insider blog each morning on ESPN.com.
Senior Writer, ESPN The Magazine
Senior writer ESPN Magazine/ESPN.com
Analyst/reporter ESPN television
Author of "The Last Night of the Yankee Dynasty"
YANKEES: END OF A PLAYOFF ERA
The New York Yankees, who have been synonymous with October baseball, saw their playoff run come to an end after 13 straight seasons of reaching the postseason.

• Buster Olney: Yankees' fall from grace
• Buster Olney: Cashman's critical next move
• Peter Gammons: Red Sox rise as Yankees fall


• Yankees' photo gallery: 1995-2008
• Jason Grey: Many Yankees were fantasy flops
• ESPN Research: Yankees' unlucky No. 13

MOST SENT STORIES ON ESPN.COM