Discussion
Sucart 'lives, breathes to please Alex'
First cousin has done everything for A-Rod, perhaps even injecting him with steroids
Updated:
March 2, 2009, 2:02 PM ET
By
Amy K. Nelson
| ESPN.com
A few years ago, Roger Ball called his good friend Yuri Sucart about getting tickets to a Texas Rangers game for a female friend. Sucart willingly helped Ball; he could, since his younger cousin was the team's star shortstop. When the woman who would be picking up the tickets asked how she would recognize Sucart, Ball didn't hesitate.
"He's the Dominican Shrek," Ball said. "Yuri looks like this big, mean thing coming at you, but he's got the softest hands. … He's sweet as a baby."
Sucart ...

Read full story
A-ROD FACES THE MEDIA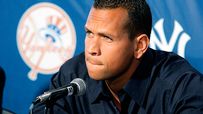 Alex Rodriguez arrived at Yankees camp Tuesday and answered questions about his admission of using performance-enhancing drugs during 2001-2003 with the Rangers.
NEWS
ANALYSIS
VIDEO
AUDIO
SPORTSNATION