Discussion
Bail increased to $2 million
Updated:
April 14, 2009, 9:21 AM ET
Associated Press
FULLERTON, Calif. -- A judge increased bail Monday to $2 million for the 22-year-old man charged in the traffic collision death of Los Angeles Angels pitcher Nick Adenhart and two other people.
Orange County Superior Court Judge Roger B. Robbins continued Andrew Gallo's arraignment until June 8.
Gallo, of San Gabriel, had nearly triple the legal blood-alcohol level when he ran a red light in his minivan Thursday and hit the car carrying Adenhart, police said.
Also killed were ...

Read full story
Nick Adenhart, 1986-2009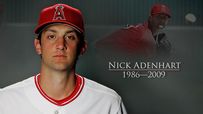 NEWS
VIDEO
AUDIO