Discussion
Notable players linked to PEDs
Updated:
July 30, 2009, 4:26 PM ET
ESPN.com
ESPN's Stats & Information group looks at some of the key Major League Baseball players who have been implicated or have admitted to using performance-enhancing drugs. Their names are in alphabetical order.
Barry Bonds: Implicated Bonds, baseball's all-time home run king, said during testimony to the federal grand jury looking into the Bay Area Laboratory Co-operative (BALCO) that he took substances described to him by trainer Greg Anderson as linseed oil and rubbing balm, which the ...

Read full story
REPORT: RAMIREZ, ORTIZ OUTED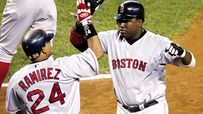 According to the New York Times, former Red Sox teammates Manny Ramirez and David Ortiz are among the players who tested positive for performance-enhancing drugs in 2003.
VIDEO
AUDIO
SPORTSNATION