Discussion
Ortiz trying to 'find out what's going on'
Updated:
July 31, 2009, 11:18 PM ET
Associated Press
BALTIMORE -- Boston Red Sox slugger David Ortiz fended off further questions Friday about his 2003 drug test, saying he needed more time to gather information.
"I am trying to find out what's going on. When I get my stuff together, I'll let you guys know," Ortiz said before the Red Sox faced the Baltimore Orioles.
The New York Times, citing unidentified lawyers with knowledge of the results, reported Thursday that Ortiz and former teammate Manny Ramirez were among the 104 players who ...

Read full story
REPORT: RAMIREZ, ORTIZ OUTED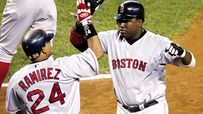 According to the New York Times, former Red Sox teammates Manny Ramirez and David Ortiz are among the players who tested positive for performance-enhancing drugs in 2003.
VIDEO
AUDIO
SPORTSNATION