Discussion
Boston's Ortiz awaits info from '03 test
Updated:
August 5, 2009, 11:52 PM ET
Associated Press
ST. PETERSBURG, Fla. -- Boston Red Sox slugger David Ortiz is still waiting for additional information regarding a positive test for performance-enhancing drugs in 2003.
Before Wednesday night's game at Tampa Bay, Ortiz again said he will share the information, including what was in his system, with the Red Sox and the public.
"I'm trying to," Ortiz said. "It's frustrating, but I'm trying to get to the bottom of this. I think about it everyday."
The list of 104 major leaguers ...

Read full story
REPORT: RAMIREZ, ORTIZ OUTED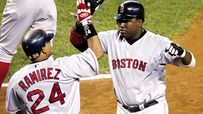 According to the New York Times, former Red Sox teammates Manny Ramirez and David Ortiz are among the players who tested positive for performance-enhancing drugs in 2003.
VIDEO
AUDIO
SPORTSNATION