Discussion
Yankees find comfort in clichés
New York goes to defense mechanisms to move past Game 3 loss to Angels
Originally Published:
October 19, 2009
By
Eric Neel
| ESPN.com
ANAHEIM, Calif. -- Nothing inspires clichés like failure. Nothing makes a man philosophical like mounting frustration.
Old saws, like well-worn pillows, provide a cushion, a dusty bit of comfort to soften the blow.
So it was that the New York Yankees, fresh off an 11-inning, 5-4 loss to the Angels on Monday evening in Game 3 of the American League Championship Series, quoted chapter and verse from the Crash Davis guide to postgame interviews.
"Tomorrow's a new day," manager ...

Read full story
ALCS GAME 3: ANGELS 5, YANKEES 4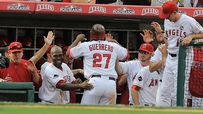 The Angels appeared to be headed into a 0-3 ALCS hole against the Yankees, but a 5-4, 11-inning win has them back in this series.
STORIES
VIDEO