Discussion
Angels create their own celebration
L.A. answers Yankees' wild Game 2 win with one of its own in Game 3 of the ALCS
ANAHEIM, Calif. -- The Angels play in the shadow of the Matterhorn Bobsleds, so they're familiar with the elements that define a good thrill ride. If it features vertiginous highs, plunges to vomit-inducing dips, and produces a woozy, yet satisfying sensation as the seat belts click open and the customers spill out on the concourse, it's a surefire winner.
Which brings us to the 2009 American League Championship Series.
Early Sunday morning in the Bronx, the Angels stood and watched ...

Read full story
ALCS GAME 3: ANGELS 5, YANKEES 4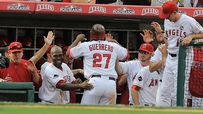 The Angels appeared to be headed into a 0-3 ALCS hole against the Yankees, but a 5-4, 11-inning win has them back in this series.
STORIES
VIDEO