Discussion
Manuel definitely made the right call
Manager will be second-guessed for not starting Lee, but he made the proper choice
Originally Published:
November 1, 2009
By
Jim Caple
| ESPN.com
PHILADELPHIA -- In this situation, someone must always be singled out for blame because, after all, it must be someone's fault when a team loses a big game in the postseason. I mean, it can't be as simple a matter as one team having to win and one team having to lose. Someone must have screwed up. Blame must be fixed.
And in this case, the most likely scapegoat in the non-Brad Lidge category is Phillies manager Charlie Manuel.
After all, Manuel is the one who decided not to ...

Read full story
WORLD SERIES GAME 4: YANKEES 7, PHILLIES 4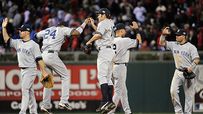 The Yankees stand one win away from their 27th title after Alex Rodriguez sparked a three-run ninth to take a commanding 3-1 series lead over Philly. World Series page »
STORIES
VIDEO