Discussion
Four remain pride of the Yankees
Rivera, Jeter, Pettitte and Posada bind title teams of the past with the present
Originally Published:
November 4, 2009
By
Jayson Stark
| ESPN.com
NEW YORK -- They stood together, arms around each other's shoulders, on a makeshift podium in the middle of a still-packed stadium as euphoria rained from the sky.
Mariano Rivera. Derek Jeter. Andy Pettitte. Jorge Posada.
They had done this before. And not just once. But somehow, this time was different. This time was special. This night was one that made them want to freeze time and hold onto a moment that was nine years in the making.
The clock had already blown past midnight ...

Read full story
WORLD SERIES GAME 6: YANKEES 7, PHILLIES 3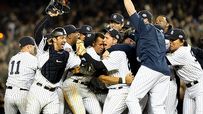 The Yankees built not only a new stadium but also a World Series winner. New York claimed its 27th title by dethroning the Phillies in six games. World Series page »
STORIES
SPORTSNATION
VIDEO
AUDIO