Discussion
Top 100 players of the decade
Tough call between Pujols and A-Rod for the top spot. The problem is, who's next?
Originally Published:
December 14, 2009
By
Rob Neyer
| ESPN.com
When making a list like this -- the 100 greatest players of this decade, which by the way I've officially and irreversibly dubbed "the 0's" -- it's easy to look at statistics. But which statistics exactly? And how does one compare hitters to pitchers? I took a shortcut, ranking the players (including pitchers) by wins above replacement (with a great deal of help from Baseball Projection.com).
From there, it was relatively easy to arbitrarily bump players up and down the list based on quality ...

Read full story
BASEBALL'S BEST AND WORST OF THE DECADE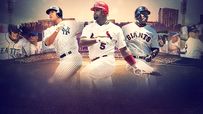 Monday, Dec. 14
Tuesday, Dec. 15
Wednesday, Dec. 16
Thursday, Dec. 17
Friday, Dec. 18
Saturday, Dec. 19
Monday, Dec. 21
Tuesday, Dec. 22
Wednesday, Dec. 23