Discussion
Canseco: McGwire not fully forthcoming
Updated:
January 12, 2010, 11:35 PM ET
ESPNChicago.com
The brothers are bashing each other.
Mark McGwire admitted Monday to using steroids during his career, but Jose Canseco contends his former "Bash Brother" from their days together in Oakland is not being entirely forthcoming about the matter.
Canseco, whose book "Juiced" fueled congressional hearings into performance-enhancing drugs in 2005, revisited one topic Tuesday that he wrote about in the book: that he and McGwire injected each other with steroids in the clubhouse ...

Read full story
MARK MCGWIRE COMES CLEAN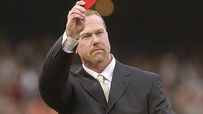 Mark McGwire admitted Jan. 11 that he used steroids on and off for nearly a decade, including during the 1998 season when he broke the then single-season home run record.
NEWS
ANALYSIS
VIDEO
AUDIO
SPORTSNATION
PAST LINKS