Discussion
No guarantees in Roy Oswalt deal
Phillies still have work to do if they are going to reach third straight World Series
Originally Published:
July 29, 2010
By
Jayson Stark
| ESPN.com
One thing we know about the Phillies is: They sure can corner the market on "Roys."
Apparently, Roy Hobbs, Roy Smalley, Brandon Roy and Siegfried & Roy were all unavailable this week. So instead, the Phillies traded for Roy Oswalt on Thursday.
And now they'd love to assume that just pairing him with Roy Halladay will be enough to restart the engines on their October Express.
But will it? Not everyone is so sure.
"It makes the division more competitive," said one ...

Read full story
ROY OSWALT TRADED TO PHILLIES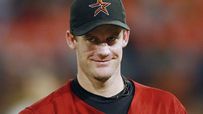 STORIES/FEATURES
VIDEO
PODCASTS
STATS & INFO BLOG