Discussion
New LCS schedule issues
Fewer off-days in the playoffs will change the game for pitching staffs
Updated:
October 6, 2010, 12:15 PM ET
By
Tim Kurkjian
| ESPN The Magazine
During yet another tedious workout on an off-day last October, Angels manager Mike Scioscia sat in the dugout at Yankee Stadium, shaking his head in disbelief at his team's playoff schedule: nine games in 21 days. "We've had more days off in October than we had during the regular season,'' he said. "This needs to be fixed.''
While there isn't much MLB can do about off-days between series, it has streamlined the postseason by eliminating the nontravel off-day after Game 4 ...

Read full story
ESPN The Magazine: October 18, 2010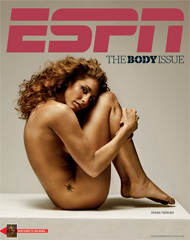 BUY YOUR FAVORITE BODY ISSUE COVER
Check out ESPN The Magazine's October 18, 2010 issue -- the Body Issue -- below.
Features
Video