Discussion
Tom Hicks regrets A-Rod contract
Updated:
October 15, 2010, 10:03 AM ET
By
Andrew Marchand
| ESPNNewYork.com
ARLINGTON, Texas -- A decade after giving Alex Rodriguez his historic $252 million contract, former Texas Rangers owner Tom Hicks said it is one of his biggest regrets.
"I've done some smart things," Hicks told Dallas-CBS affiliate KTVT-TV Channel 11 when asked about Rodriguez now being a Yankee. "I've done some dumb things. That was one of the dumb things."
When reached on his cell phone by ESPNNewYork.com, Hicks said he was through talking about Rodriguez.
"I'm not going ...

Read full story
ALCS: YANKEES VS. RANGERS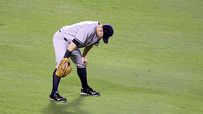 Rangers win 4-2 »
THE AFTERMATH
GAME 6
GAME 5
GAME 4
GAME 3
GAME 2
GAME 1
ESPN DALLAS