Discussion
Giant cast of 'misfits' marches on
Underdogs continue unlikely run to the World Series by bouncing the Phils in six games
Updated:
October 24, 2010, 10:54 AM ET
By
Jayson Stark
| ESPN.com
PHILADELPHIA -- They have given themselves a chance to do something magical, something unforgettable, something their city has waited for from the beginning of recorded baseball time.
They can do something now that Willie McCovey never did. And Juan Marichal never did. And Barry Lamar Bonds never did.
And you know what we're talking about, right? On a mesmerizing Saturday night in October, those wacky, scrappy, often-unidentifiable San Francisco Giants put themselves in position to ...

Read full story
NLCS GAME 6 WRAP-UP
Complete MLB postseason schedule »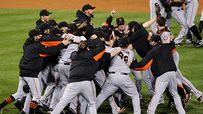 NLCS GAME 6: GIANTS 3, PHILLIES 2