Discussion
Washington left holding the chalupa
Manager's bullpen management hurts Texas, while Bochy gets everything right
Originally Published:
October 28, 2010
By
Jim Caple
| ESPN.com
SAN FRANCISCO -- You know that irritating chalupa commercial with Joe Girardi and Mariano Rivera that has been playing on an almost continuous loop since the postseason started? Here's how it would go if Rangers manager Ron Washington and his closer, Neftali Feliz, were in it instead.
CUSTOMER: Whoah, I don't know if I can eat this entire chalupa.
WASHINGTON: Aw, sure you can. You're a big boy. You can handle it.
CUSTOMER: No, I'm stuffed. Seriously, I ...

Read full story
WORLD SERIES GAME 2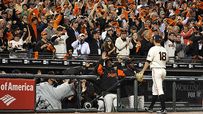 GIANTS 9, RANGERS 0