Discussion
Everything going right for Giants
Sometimes the stars align, and that may be the best way to explain this World Series
Updated:
October 29, 2010, 11:09 AM ET
By
Jayson Stark
| ESPN.com
SAN FRANCISCO -- In our hearts, we know it can't possibly be intangible stuff like fate that determines who wins the World Series. Right?
It can't be destiny. It can't be biorhythms. It can't be mystical forces in the heavens that suddenly converge to change the outcome of postseason baseball games. It can't be about cosmic spookiness in any shape or form. Right?
But there is something going on these days by the shores of McCovey Cove that can't possibly be explained by any Baseball ...

Read full story
WORLD SERIES GAME 2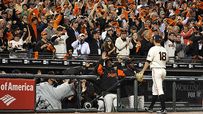 GIANTS 9, RANGERS 0