Draft trend steering top prospects to best teams
Originally Published:
June 7, 2006
By
Keith Law
| Scouts Inc.
Last year, Austin Jackson, a teenage outfielder who had committed to play guard for Georgia Tech's basketball team, was considered an unsignable prospect in the MLB Rule 4 Draft, despite a five-tool package that could have led to his selection in the top couple of rounds. In the eighth round, the Yankees took him and offered an $800,000 bonus -- which he happily accepted.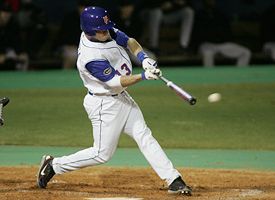 Mike Carlson/Icon SMIMatt LaPorta of Florida went to Boston in the 14th round after being considered a first-round talent.
Last year, Pedro Alvarez, an enigmatic but talented infielder from Horace Mann High School in the Bronx (yes, it's Riverdale, where they like to pretend they're not in the Bronx, but they are -- look at a map) was considered to be tough to lure away from a scholarship to Vanderbilt. The Red Sox took him in the 11th round and offered him roughly $700,000; he turned it down but apparently was very close to accepting it. He's now the top collegiate prospect for the 2008 draft after smashing Vandy's school record for home runs in a single season.
It is not unusual for so-called "unsignable" players to drop in the draft and then sign for large bonuses. What is unusual is that the game's two financial behemoths, the Yankees and Red Sox, appear to have figured out that they can use this system to their advantage. To wit:
• Matt LaPorta, considered a possible first-round selection in the spring (albeit a flawed one), fell in the draft due to an oblique injury he suffered in March and to his decision to use Scott Boras as an adviser. The Red Sox took him in the 14th round.
• Lars Anderson, a slugging first baseman from Jesuit High School in Fair Oaks, Calif., who was expected to go in the first two rounds, fell all the way to the end of Day 1, when the Red Sox took him in the 18th round.
• Dellin Betances, a hard-throwing but extremely raw pitching prospect who played for Grand Street Campus (a high school in Brooklyn), was considered unsignable after the third round. The Yankees took him in the seventh round.
• Mark Melancon (although, judging by how it's pronounced, it probably should be Melanšon) was probably the top college closer in the draft this year, which in recent years has meant a top-20 draft slot and a quick route to the majors. Melancon has a plus fastball with good sink and an average curve, but an elbow strain ended his season in early April, so he was presumed headed for surgery and back to school. The Yankees took him in the ninth round.
Granted, none of these players has signed yet, and in all likelihood at least one will go back into the draft next year. But what interests me is the possible trend that higher-revenue teams -- and agents for talented amateurs who may not go in the top 20 to 30 picks -- will figure out how to game the draft.
• For the agents: Tell clubs your player won't sign for less than first-round (or top-two-rounds) money. Either the player goes in the top two rounds and gets his money, or he falls to a later round, when an enterprising team pops him and pays him well above slot.
• For the teams: Set a draft budget a million dollars (or more) above the sum of your slot amounts. Get signability information on all top players, even ones you don't think you'll have a shot at, and sometime after the fifth round or so -- whenever the talent pool thins out enough to consider taking a flier on one of these guys -- start mixing in selections of "unsignable" players.
This wouldn't work for a player who sets his bonus demand too far above his talent level, and nothing stops a lower-revenue team from trying to snag one of these fallen players, as well. But teams with money can do it more effectively: They can set the higher budget; they can select more of these players each year; they can better afford the risk of spending a half million dollars on a player who doesn't work out; and they're less concerned about the opportunity cost of an eighth-round pick who doesn't sign.
This isn't really going to break the draft, but it could diminish the draft's limited capacity to help the worst teams by steering the best amateur players away from them.
More on Day 1
• Kansas City was in a position to really strengthen its farm system, picking at the top of every round, but the Royals didn't execute well in Rounds 2, 3 and 4. Their second pick was Virginia high school shortstop Jason Taylor, who probably will end up in a corner position but doesn't project to hit for much power. Third was Blake Wood, an erratic starting pitcher from Georgia Tech who lacks a third pitch and who posted a K-BB ratio of 80-to-38 in 95 innings this year. Fourth was Florida high school outfielder Derrick Robinson, a speedster who also doesn't project to hit for much power. (As an aside, the scouting video of Robinson on MLB.com is priceless. He swings and misses, then he fouls some balls off, then he pops a ball up, then he hits a few ground balls. His agent must have wanted to strangle the cameraman.) The Royals did take two potential fourth or fifth starter types in the fifth and sixth rounds, but on the whole, it's not an inspiring group.
• Although I criticized San Diego's initial pick of Wake Forest third baseman Matt Antonelli, the Padres did recover nicely after that selection, going in the opposite direction with toolsy Tennessee outfielder Kyler Burke in the second round (although they'll have to sign him away from a commitment to Vanderbilt), then adding four fifth-starter-but-maybe-more arms in the middle rounds: Alabama's Wade LeBlanc, a statistical standout who doesn't have the good curveball most scouts like to see in left-handed pitchers; Missouri's Nate Culp, something of a poor man's Wade LeBlanc; Central Florida's Tim Bascom, who recovered from a 2005 knee injury to have an outstanding '06 season, recording ground balls on 70 percent of his field outs; and Fresno State's Andy Underwood, a righty with good command and a good breaking ball but a fringe fastball. That's a good depth draft, and in Burke they have one potential star.
• Several chat participants asked me for a pick that shocked me, but I didn't think I could provide a complete response in a chat session. My answer is Detroit's second-round pick, Ronald Bourquin, a third baseman from Ohio State. Bourquin was the Big Ten Player of the Year, but his stats were largely built on a big batting average (.416). His power isn't great for a third baseman, and there's at least an even chance he'll have to move off the position, which would relegate him to backup status. He was expected to go at least two rounds later than when the Tigers took him.
Keith Law, formerly the special assistant to the general manager for the Toronto Blue Jays, is the senior baseball analyst for Scouts Inc.
SPONSORED HEADLINES
MORE MLB HEADLINES
MOST SENT STORIES ON ESPN.COM
EDITORS' PICKS
Julio Teheran will be a key figure for Atlanta down the stretch.
BBTN

The Astros fired Bo Porter as their manager on Monday.
Story »

Angels are showing they're clearly MLB's best team.
Power Rankings »