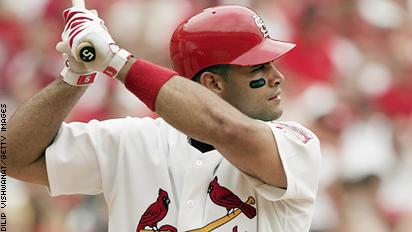 Top Of The Heap
Will the Cardinals win a third straight NL Central title in 2006? Jerry Crasnick concludes our Hot Stove Heaters by picking the favorites in each of the six divisions.
Story

Gillette: Top rookies of '06
Brewers power-hitting first baseman Prince Fielder is on the short list of rookies who could have an impact in 2006.


End text -------------------------
FANTASY
• Team-by-team previews

• Eric Karabell's blog
KEEPING TRACK
• Projected starters: National League | American League
• Transaction Tracker | Free Agent Tracker
• Baseball America's Trade Central: 2006 | 2005
• Steve Phillips' Top 50 Free Agents
| Rumor Central
BASEBALL CALENDAR
Feb. 1-20: Salary arbitration hearings, St. Petersburg, Fla.
Feb. 16: Voluntary reporting date for pitchers, catchers and injured players.
Feb. 21: Voluntary reporting date for other players.
Feb. 27: Hall of Fame Negro leagues and pre-Negro league selection committee vote, Tampa, Fla.
Feb. 28: Mandatory reporting date.
March 2-11: Teams may renew contracts of unsigned players.
March 3-20: World Baseball Classic.
March 15: Last day to place a player on unconditional release waivers and pay 30 days termination pay instead of 45 days.
March 29: Last day to request unconditional release waivers on a player without having to pay his full 2006 salary.
April 2: Opening Day, Cleveland at Chicago White Sox. Active rosters reduced to 25 players.
May 15: Hall of Fame Game, Cincinnati vs. Pittsburgh, Cooperstown, N.Y.
June 6-7: Amateur draft.
July 11: All-Star Game, Pittsburgh.
July 30: Hall of Fame inductions, Cooperstown, N.Y.
July 31: Last day to trade a player without securing waivers.
Sept. 1: Active rosters expand to 40 players.
Oct. 3: Playoffs begin.
Oct. 10: League Championship Series begin.
Oct. 21: World Series begins.
October/November: Free agent filing period, first 15 days after World Series ends.
Nov. 13-17: General managers' meetings, Naples, Fla.
Dec. 4-7: Winter meetings, Lake Buena Vista, Fla.
Dec. 4-8: Major League Baseball Players Association executive board meeting, Bonita Springs, Fla.
Dec. 7: Last day for teams to offer salary arbitration to their former players who became free agents.
Dec. 19: Last day for free agents offered salary arbitration to accept or reject the offers.
Dec. 20: Last day for teams to offer 2007 contracts to unsigned players.
2007
Jan 5-15: Salary arbitration filing.
Jan. 8: Last day until May 1 for free agents who rejected arbitration offers to re-sign with their former teams.
Jan. 18: Exchange of salary arbitration figures.
Feb. 1-21: Salary arbitration hearings.