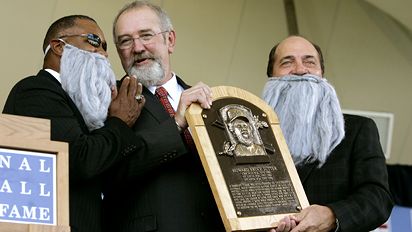 What A Relief
Eighteen years after he threw his final major-league pitch, Bruce Sutter was enshrined in the Baseball Hall of Fame, along with 17 Negro and pre-Negro League inductees. And for Sutter, it was a happy ending only an ex-closer could appreciate.
Story
•
"Now ... I'll be introduced as 'Hall of Famer Bruce Sutter' "

History Lesson


Buck O'Neil will be in Cooperstown on Sunday, but not for his induction. His omission has aroused anger and disappointment in everyone ... except O'Neil, writes Adrian Wojnarowski. Story

• Gary Gillette: A tribute to the Negro League inductees

• Hall of Famer Ozzie Smith comments on the '06 class

Hall Of Justice


Are John Smoltz and Curt Schilling worthy of the Hall of Fame? Page 2's Jonah Keri has the answer. Story



Call To The 'Pen


Bruce Sutter is finally headed to Cooperstown -- and that's good news for other closers. Buster Olney explains. Story |
• Sutter to wear Cardinals cap in Hall of Fame | Our Hall ballots
• 76.9% for Sutter | His reaction
| Olney: Miscast votes

• Rob Neyer: No Goose?
| Jayson Stark: Bruce almighty
• Useless HOF info | Stark on the voting results
GENERAL INFORMATION
WHAT
Baseball Hall of Fame induction ceremony
WHERE
Cooperstown, N.Y.
WHO
Ray Brown, Willard Brown, Andy Cooper, Frank Grant, Pete Hill, Biz Mackey, Effa Manley, José Méndez, Alex Pompez, Cum Posey, Louis Santop, Bruce Sutter, Mule Suttles, Ben Taylor, Cristóbal Torriente, Sol White, J.L. Wilkinson, Jud Wilson
LINKS
Complete listing of Hall of Famers
2006 Hall of Fame voting
2006 HALL OF FAME CLASS
BRUCE SUTTER
Position: Relief Pitcher
Teams: Chicago, St. Louis, Atlanta
Seasons: 12
Honors:
1979 NL Cy Young Award
1979, '81-82, '84 NL Rolaids Relief Award
6-time All-Star
5-time NL saves leader
NEGRO AND PRE-NEGRO LEAGUE INDUCTEES
Ray Brown
Pitcher
Cum Posey
Manager/Owner
Willard Brown
Center Fielder
Louis Santop
Catcher
Andy Cooper
Pitcher
Mule Suttles
First Baseman
Frank Grant
Second Baseman
Ben Taylor
First Baseman
Pete Hill
Center Fielder
Cristobal Torriente
Center Fielder
Biz Mackey
Catcher
Sol White
Pioneer/Executive
Effa Manley
Pioneer/Executive
J.L. Wilkinson
Pioneer/Executive
Jose Mendez
Pitcher
Jud Wilson
Third Baseman
Alex Pompez
Pioneer/Executive


OTHER HONOREES
J.G. Taylor Spink Award
(baseball writing)

Tracy Ringolsby
Ford C. Frick Award
(broadcasting)

Gene Elston