Sunday, March 29 2015
Feeling Minnesota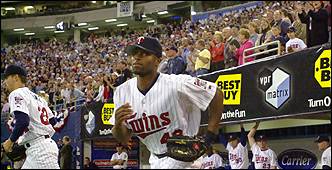 Look for Torii Hunter to lead the Twins' charge to a title.

Saturday, April 2/Sunday, April 3: "Predictions"
• Stark: Who will win the World Series and why
• Olney: Ranking the teams from top to bottom
• Staff predictions: Team and individual


---
Friday, April 1: "The Great Rivalry"
• The Great Debate: Red Sox-Yankees
• McAdam: How the Red Sox can stay economically strong, while remaining in Fenway Park


---
Thursday, March 31: "Changing Leagues"
• Phillips: Breaking down the top players who changed leagues this offseason, and how they'll fare in '05

• Rogers: Many big-name players switched leagues this offseason. What does it mean?
• Fantasy: Twenty guys who changed leagues, and what the switch will mean for their fantasy value?
---
Wednesday, March 30: "Baseball Back in D.C."
• Kurkjian: What happened in the 30 years since the Senators left the nation's capital?
• Neyer: All-time Senators team
---
Tuesday, March 29: "Setting The Records Straight"
• Schwarz: How records should be viewed in light of the steroids scandal
• Neyer: MLB's history of cheating

• Milestones for 2005: AL | NL


---
Monday, March 28: "Big Bang Goes Bust"
• Stark: Why this will be the start of a new era
• Olney: Things you can expect to see in new era
• Neyer: Defining MLB's eras from the beginning