Friday, January 30 2015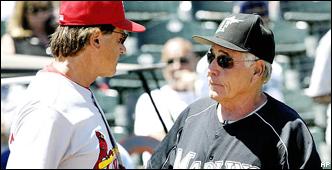 Tony La Russa, left, and Jack McKeon talk shop.
Crasnick: April anomalies


Jim Edmonds is one of many players whose April numbers deviate significantly from the rest of the season.
Spring stats: anomalies or harbingers?
Abraham Nunez is a better slugger than Barry Bonds -- this spring.
Stark: Sox, Jays go to head of AL East
The Red Sox and Blue Jays gained a half-game on the Yankees in the standings -- in their sleep.
Crasnick: Halladay gets some help


Toronto's rebuilt rotation should take some heat off Cy Young winner Roy Halladay, but he's still the top gun.
Stark: Bad beginning
There's nothing wrong with big league teams playing in Japan -- except when the games count in the standings.
Klapisch: A can't-miss trip
From The Babe to Hideki Matsui, the Yankees have a long history they hope to further grow in Japan.
Schwarz: All-time LF gems
Kevin Mitchell and Bo Jackson show you don't always need a glove to make defensive history in the outfield.
Schwarz: All-time CF gems
Willie Mays' over-the-shoulder catch in the 1954 Series may be the most famous play in baseball history.
Schwarz: All-time RF gems
If not for Dwight Evans in Game 6 of the 1975 Series, there never would have been Pudge's moment of glory.
Crasnick: L.A.'s winter of contentment


Despite a new owner and GM, the Dodgers made few significant on-field changes, and they say that's OK.
Caple: Pitching genius
Page 2's Jim Caple is hoping M.I.T. grad Jason Szuminski makes the Padres roster.
Schwarz: All-time P/C gems
Classic collisions and a goalie-like saves rank among the greatest defensive plays ever for pitchers and catchers.
Rogers: Kid Wonder
Despite being just 19 years old, outfielder Ryan Sweeney has taken White Sox camp by storm.
Stark: Habitat for sanity
The Expos face another season in limbo. What's worse is there's no indication that MLB has a solution.
Stark: Rumblings & Grumblings
Devil Rays outfielder Delmon Young is among a handful of prospects who have been impressive this spring.
Crasnick: Everett finding acceptance


The controversial Carl Everett has been a breath of fresh air to the players in the Expos clubhouse.
Schwarz: All-time 2B/SS gems
A bare-hand grab, shovel passes, and even a fake rank among the best defensive plays ever at second and short.
Caple: Basic training
Page 2's Jim Caple caught up with Brian Jordan to compare football camp and baseball's spring training.
Neel: Taking back the Cubs
The Cubs are planning to block some of Wrigley Field's rooftop views -- and that's only the beginning.
Schwarz: All-time corner gems
The best defensive plays ever at first and third base? Brooks Robinson had a hand in more than one.
McAdam: A Tribe revival?
With several top young players either in place or soon to be, the Indians have big plans for the near future.
Crasnick: 10 Questions from Florida


Opening Day is just two weeks off, but there still are a lot of questions to be answered. Our Insider has 10.
Stark: Circuit training
Best golf courses. Worst restaurants. No one knows Arizona and Florida like the well-traveled Reggie Sanders.