Commentary
Raines should easily walk right into Hall
Speedster had more than 800 stolen bases and reached base nearly 4,000 times
Originally Published:
December 31, 2009
By
Rob Neyer
| ESPN.com
We've all got our prejudices, and Hall of Fame voters have any number of them.
Unfortunately, two of the voters' many prejudices work squarely against Tim Raines.
[+] Enlarge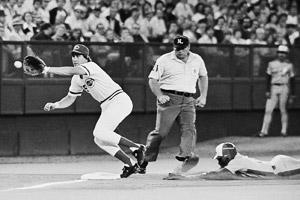 AP PhotoTim Raines stole 70 or more bases for six straight years from 1981-86.
Hall of Fame voters are prejudiced against players who were much better in their 20s than in their 30s, and they are prejudiced against players whose offensive value was derived to a large degree from walks.
When Raines was in his 20s, he was an All-Star seven times and routinely appeared on Most Valuable Player ballots. In his 30s, though still a fine player, Raines was never an All-Star, never appeared on a single MVP ballot, and had problems staying healthy enough to play.
In part because of the injuries later in his career, Raines fell nearly 400 hits short of 3,000, which has always been a de facto qualifier for the Hall of Fame (with the notable exception of Pete Rose). But Raines also drew 1,330 walks in his career.
All told, Raines reached base nearly 4,000 times. We know that 3,000 hits is a lot of hits. But how many times on base is 4,000? Only 40 players in major league history have reached base 4,000 times. Of those 40 players, 33 are eligible for the Hall of Fame. Of those 33, 32 have been elected to the Hall of Fame (the only exception is Rusty Staub, who will never be confused with Tim Raines yet was, paradoxically, like Tim Raines in many ways).
By the existing standards of the Hall of Fame, 4,000 times on base is a lot of times on base.
Granted, Raines did not reach base 4,000 times; he reached base 3,977 times. But just as interesting as the list of players who reached base more often than Raines is the list of players who reached base less often than Raines.
Tony Gwynn, for example. Raines is 41st on the all-time list; Gwynn is 42nd.
The two were almost exactly contemporaries. Raines first played regularly in 1981 and last played in 2002; Gwynn first played regularly in 1982 and last played in 2001. The two men did play slightly different roles. Raines spent most of his career as a leadoff man, while Gwynn spent most of his career batting second or third. But Gwynn was not a power hitter; he never hit 20 home runs in a season, and drove in more than 75 runs just twice. His job was essentially to get on base. To start a rally or keep one going, and eventually touch home plate.
Oddly, though, Gwynn didn't touch home plate all that often. He scored 100 runs just twice. This wasn't completely his fault. For some years, he wasn't followed in the lineup by accomplished hitters. Still, it seems worth noting that Raines reached base 22 more times than Gwynn and scored 188 more runs. And one wonders … if their stats were exactly the same, except with reversed hits and walks totals -- Gwynn has more hits, of course, but Raines has more walks -- would Gwynn be in the Hall of Fame today, and Raines still waiting?
Except … well, sure: Gwynn hit all those balls into the 5.5 hole between shortstop and third base, and he did win eight batting titles. Also, he had a good arm and picked up five Gold Gloves (Raines didn't throw well, and never won a Gold Glove). While Raines did some things just as well as Gwynn and at least one thing (stealing bases) better, in the end the comparison will not serve Raines well. If only because you're never going to convince a baseball writer that Tim Raines was as good as Tony Gwynn. Let alone better.

CAREER STATS
GM

2502

R

1571

H

2605

SB

808

OBP

.385

AVG

.294
But let's return to that list of players who reached base less often than Raines.
Lou Brock, for example. Raines is 41st on the all-time list. Brock is 52nd.
Like Raines, Brock was primarily a leadoff man who played left field. Like Raines, Brock didn't throw well and never won a Gold Glove. And like Raines, Brock was most famous for his baserunning.
Did Brock score a huge number of runs? He scored 100 runs six times, and twice led his league. Raines also scored 100 runs six times, and twice led his league. Was Brock a more effective baserunner than Raines? Well, Brock did steal 938 bases. He was also caught stealing 307 times. Raines stole 808 bases and was caught 146 times.
You can do the math. By any reasonably objective standard, Raines was the better base stealer.
In Brock's first year of Hall of Fame eligibility, he was elected with 80 percent of the vote.
In Gwynn's first year of Hall of Fame eligibility, he was elected with 98 percent of the vote.
In Raines' first year of Hall of Fame eligibility, he was supported by 24 percent of the voters. In his second year, he dropped to 23 percent.
Again, I will note that Raines reached base more times than Gwynn, and more times than Brock. But while Raines often walked, Gwynn and Brock both walked rarely. While Raines faded in his 30s, Gwynn and Brock both played effectively and regularly, well into their 30s. Voters simply don't like players who fade away slowly.
There will, I suppose, be two common objections raised about Raines' Hall of Fame candidacy. One, he's an acknowledged cocaine user. And two, he was never a truly dominant player.
Each objection is easily dispatched.
Raines was just one of many players of the 1980s who used (and abused) cocaine, and at least a few of them (Paul Molitor, for one) have been elected to the Hall of Fame with nary a discouraging word.
Raines wasn't a dominant player? Over the seven seasons from 1983 through 1989, Raines ranked third in the majors in runs scored, third in steals, fourth in on-base percentage and eighth in adjusted OPS. One "problem" when evaluating Raines is that we don't have a widely accepted method for combining the usual batting stats with steals. We can, however, look at Bill James' old (and still useful) "runs created" … and over those seven seasons, only Wade Boggs created more runs than Raines … which means Raines created more runs than Rickey Henderson and Eddie Murray and Robin Yount and Cal Ripken and Tony Gwynn and George Brett and all the rest of your favorite Hall of Famers from that era.
Raines was a dominant player for seven years … and a good player for many other years. That has been, for as long as there's been a Hall of Fame, a perfectly fine recipe for a Hall of Fame career. Frankly, the burden shouldn't lie with those who believe he belongs in the Hall of Fame. It should lie with the voters who have, in droves, failed to vote for him in his first two appearances on the ballot.
(I could write all day about Tim Raines and the Hall of Fame, except I don't have all day. If you do, there's always Joe Posnanski and -- if you have a week -- there's this.)
Rob Neyer is a senior writer for ESPN.com and regularly updates his blog. You can reach him via rob.neyer@dig.com.
SPONSORED HEADLINES
MORE MLB HEADLINES
MOST SENT STORIES ON ESPN.COM
EDITORS' PICKS
Think the NFL has greater parity than MLB? Think again.
Jayson Stark »

They came so close to cracking Keith Law's Top 100.
The Next 10

Yasiel Puig's season could determine how long he stays in L.A.
Buster Olney