"After Jackie": Permission To Dream
Originally Published:
March 31, 2007
By
Cal Fussman
| Special to ESPN.com
Editor's Note: The following is an excerpt from "After Jackie: Pride, Prejudice and Baseball's Forgotten Heroes" by Cal Fussman. Copyright (c) 2007 by Cal Fussman. Reprinted by permission of ESPN Books.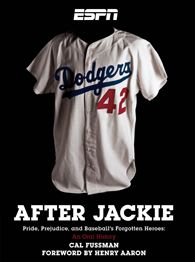 I can remember being a kid back in Mobile sitting on the back porch when an airplane flew over. I told my father when I grew up I was going to be a pilot. You know what he said? He said, "Ain't no colored pilots."
So I told him I'd be a ballplayer. And he said, "Ain't no colored ballplayers. There were a lot of things blacks couldn't be back then. There weren't any colored pilots. There weren't any colored ballplayers in the major leagues. So it was hard to have those dreams.
Then Jackie came with the Brooklyn Dodgers to Mobile for an exhibition game in 1948. I went to hear him talk to a crowd in front of a drugstore. I skipped school to meet Jackie Robinson. If it were on videotape, you'd probably see me standing there with my mouth wide open.
I don't remember what he said. It didn't matter what he said. He was standing there.
My father took me to see Jackie play in that exhibition game. After that day, he never told me ever again that I couldn't be a ballplayer.
I was allowed to dream after that.
-- Henry Aaron
SPONSORED HEADLINES
MORE MLB HEADLINES
MOST SENT STORIES ON ESPN.COM