Soriano merchandise plummeting
With his trade to Texas, merchandise of Alfonso Soriano in a Yankee uniform is losing its luster.
Originally Published:
February 20, 2004
By
Darren Rovell
| ESPN.com
In New York sporting goods stores, merchandisers can't get enough goods with the No. 13 on it or with the name "Rodriguez" on the back of replica jerseys.
Alex Rodriguez items are flying off the shelves since the highest-paid player in baseball was added to the team with the highest payroll in baseball in the nation's largest market.
But there's another side to the trade with the Texas Rangers that was formally announced on Tuesday -- the glut of Yankees merchandise of Alfonso Soriano, who was shipped to Texas in the deal.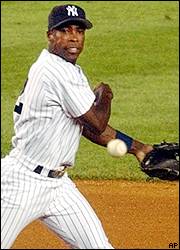 Alfonso Soriano's days wearing pinstripes are over.
Soriano's performance with the Yankees -- 98 home runs, 270 RBI and a .284 batting average during his Yankee career -- encouraged the growth in the Soriano memorabilia market.
There was a porcelain Soriano collector's plate made, and fans could even wear a No. 12 Soriano Yankees' pinstripe hat or put a Soriano magnet on their refrigerator. Now, many fans and store owners in New York are looking to find a garbage can with Soriano's image on it, so that they can toss out some of his items that have sharply declined in value.
The price of a Soriano-signed baseball at some retailers skyrocketed from $45 in 2000 to around $200 in 2003.
"The value of his signature on a ball won't decrease that much if he continues playing well," said Ari Witkes, vice president of Grandstand Sports & Memorabilia, which is selling a Soriano ball on its Web site for $199.
But Witkes said the price of Soriano autographed 8-by-10 pictures featuring the second baseman in Yankees attire will likely dive from its price of $279. His autographed Yankees jersey, which is now at $699, will be cut by about $200, Witkes said.
"The price of his autograph could be cut in half on some items," said Lou Mauro, vice president of Stars and Pinstripes, a memorabilia company that has an exclusive autograph contract with Soriano. "But there are other items that are unique and won't drop significantly."
The company currently offers standard autographed items as well as jerseys and helmets with handpainted images of Soriano on them, which range in price from $499 to $1,299, and autographed game-used Soriano cleats, which cost $1,495.
The loss of business as a result of Soriano's move to Texas, will easily be made up by the gain in business from Rodriguez's switch to New York though. Jared Weiss, president of Steiner Sports Memorabilia, a sports collectibles and memorabilia company, said that the loss of Soriano won't be as great since he wasn't a best seller.
"His autograph was a dog this whole year," said Weiss, whose company has Yankees shortstop Derek Jeter signed to an exclusive contract. "The market wasn't willing to pay the price he charges to sign."
The Soriano-Rodriguez trade dealt another significant blow to Todd McFarlane's latest line of seven sports figurines. Not only did the eighth series of McFarlane's Sports Picks feature Soriano and Rodriguez in their Yankees and Rangers uniforms, respectively, the series -- which hit shelves earlier this month -- also had new Yankees pitcher Kevin Brown in a Dodgers uniform and Richie Sexson, who was traded to the Diamondbacks, in his old Brewers garb.
"Silly me, I didn't factor in three All-Stars with long term contracts being traded," McFarlane said. "On top of that, what are the chances that out of 700 players in the league you'd get a trade involving A-Rod and Soriano, both of whom are in this line."
| | | |
| --- | --- | --- |
| | " | The price of his autograph could be cut in half on some items. But there are other items that are unique and won't drop significantly. " |
| | | — Lou Mauro, vice president of a memorabilia company, on Alfonso Soriano |
Because production runs were not halted, it's unlikely that the figurines of the players that got traded will command a higher asking price on the secondary market.
"The stores want to have our Major League Baseball product in by the start of the season," said company spokesman Ken Reinstein. "But we go into production two months before, when all these trades are happening, and now what good does it do us?"
Company officials are now looking at possibly debuting its new line of Hall of Fame figures to start next baseball season, "since Yogi Berra can't get traded," Reinstein said.
Some stores in New York City have put Soriano items in a half-off bin, while others haven't made the move just yet, including the Modell's on Third Avenue.
There, Soriano's replica jersey is still selling for the $70 price tag that fans are paying for A-Rod's replica in pinstripes, said Linda Arroyo, the store's manager.
As if Soriano's move out of Yankeeville wasn't bad enough, the revelation that Soriano is 28 years old, instead of the previously reported 26, also could affect his value, said Rich Klein, price guide analyst for Beckett.com, a sports collectibles Web site.
"After a collector hears that, he or she might start realizing that the past couple years could have been his peak," Klein said. "So it's possible that people will not be as active in seeking his cards as they were before if they think his future isn't as bright."
On Friday morning, 47 Soriano cards were unloaded on eBay for $10.51. And, to think, that included shipping and handling.
Darren Rovell, who covers sports business for ESPN.com, can be reached at darren.rovell@espn3.com.
ESPN.com Sports Business reporter
ESPN.com's sports business reporter since 2012; previously at ESPN from 2000-06
Appears on SportsCenter, ESPN Radio, ESPN.com and with ABC News
Formerly worked as analyst at CNBC
SPONSORED HEADLINES
MORE MLB HEADLINES
MOST SENT STORIES ON ESPN.COM
EDITORS' PICKS
Rob Manfred has now graduated to baseball's biggest stage as its new commissioner.
Jerry Crasnick »

Nobody loved playing the game more than Ernie Banks.
Tim Kurkjian »

As Bud Selig prepares to leave office, what will his legacy be?
Gallery »