Pedrique replaces Brenly in lost season
Updated:
July 3, 2004, 2:07 AM ET
Associated Press
PHOENIX -- The Arizona Diamondbacks fired manager Bob Brenly on Friday in the midst of their worst season since their expansion campaign of 1998.
Baby Backs on the way;
trades always possible
PHOENIX -- The Diamondbacks spent millions to build a winner in a hurry. Now the franchise is rebuilding with youth, and that was one big reason Bob Brenly was fired Friday.


The team could get even younger soon.


A handful of veterans remaining on the team might be headed elsewhere as contenders shop for help before the July 31 trade deadline.


"If you're asking whether or not we have a fire sale going on, the answer is no," said Jerry Colangelo, the team's chairman and chief executive. "We think it would be prudent to listen to what people have to offer because of the position we're in as a franchise."


Randy Johnson wouldn't talk to reporters after Brenly's firing. Colangelo said he's heard nothing to indicate Johnson wants to be traded.


"I have a lot of respect for Randy, and when Randy tells me something specifically, then I would consider what he has to say," Colangelo said. "I'll stand by what he and I have discussed in the past, that he wanted to finish his career here, we want him to finish his career here, et cetera, et cetera. So nothing has changed, despite all the rumors and innuendoes."


Steve Finley, Danny Bautista and Roberto Alomar are among the possible trade candidates. Finley can veto any deal but might be willing to go to San Diego, where he keeps his offseason home.
-- Associated Press
Diamondbacks' third-base coach Al Pedrique was named interim manager for the remainder of the season.
Hall of Famer Robin Yount, the team's bench coach, resigned out of loyalty to Brenly, general manager Joe Garagiola Jr. said. Pitching coach Chuck Kniffin also was fired.
Pedrique, who played parts of three seasons with the Mets, Pittsburgh and Detroit, was a manager in the minors for eight seasons. He managed Arizona's Triple-A Tucson Sidewinders in 2002 and '03.
"I think it makes my job a lot easier," Pedrique said, "knowing that I've had those kids in the past -- last year, two years ago. They know where I come from. They know I'm an old-school manager."
In a coaching shuffle, Mark Davis moves from bullpen coach to pitching coach, and Glen Sherlock from first base to third. Tommy Jones, the organization's director of player development, takes over as first-base coach.
Lorenzo Bundy, the hitting coach for Tucson, will become bench coach.
A former major league catcher and television analyst, Brenly was the second manager in the franchise's six-year history. He took over from fired Buck Showalter in 2001 and directed the team to a dramatic World Series triumph over the New York Yankees.
He was the first to win a World Series in his first season as a major league manager since Ralph Houk of the Yankees in 1961.
The Diamondbacks, led by the powerhouse pitching duo of Randy Johnson and Curt Schilling, won the NL West title in 2002, but faltered in an injury-plagued 2003 season and failed to make the playoffs. This year, with Schilling dealt to Boston, the Diamondbacks again experienced an avalanche of injuries, the most damaging a season-ending torn shoulder ligament to slugger Richie Sexson.
"This is never an easy decision to make, particularly with someone as well-liked and respected as Bob," said Jerry Colangelo, the team's chairman and chief executive.
Brenly compiled a 303-262 record in 3½ seasons, but the team was 29-50 going into Friday night's interleague game against the Minnesota Twins, 15 games behind division-leading San Francisco.
Colangelo said a month ago that Brenly would remain through the season, the final year of his contract, "unless the bottom falls out." That apparently happened when the team went through a mistake-filled, club-record 11-game losing streak. The skid ended Wednesday night, and Arizona won its second in a row over San Diego 7-5 on Thursday night, but Brenly's fate had been sealed.
A paid crowd of 22,631, smallest in franchise history, watched Thursday night's game.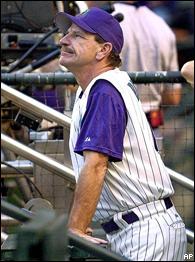 Bob Brenly was the first in 40 years to win a World Series in his first season as a major league manager.
Colangelo said earlier this week that he would meet with general manager Joe Garagiola Jr. and other members of the front office to discuss Brenly's fate and other matters, such as what players might be traded to contenders to add more young prospects to the roster.
The Diamondbacks have had 16 players on the disabled list this season, most in the majors. That has led the team to field lineups with the likes of Chad Tracy, Scott Hairston and Tim Olson, all of whom began the season in the minors.
The bullpen was decimated by injuries and ineffective even when the main pitchers were healthy.
"We are all disappointed and distressed at the direction our club has taken this year, and several key injuries have factored into our record," Colangelo said in a statement. "The blame does not solely fall on Bob's shoulders, as we have failed in many facets on the field and in the clubhouse.
"However, with disappointments come change and our ownership group and management feel that now is the time to relieve Bob of his duties as manager."
The team was prone to mistakes, including recent instances of missed bunt signs and costly errors. The Diamondbacks committed four errors on Wednesday night. After the team played an error-free game on Thursday, Brenly smiled and proclaimed "No errors! We get pizza!"
Then he walked out the interview room door. They were his last comments to the media as Diamondbacks' manager. He sent word through the organization that he would have no public comments Friday.
Pedrique, 43, was born in Venezuela, and his ability to speak Spanish and English also will help, said Arizona outfielder Luis Gonzalez, who also is bilingual.
Pedrique said he hopes he has learned well from three of his major league managers -- Jim Leyland, Davey Johnson and Sparky Anderson.
"I like to be aggressive," Pedrique said. "I believe in playing solid defense, solid fundamental baseball. Any time you do that, you put yourself in a good situation to win games.
"So that's going to be our main focus for the team the rest of the season -- play solid defense and do the little things right."

Copyright 2004 by The Associated Press
SPONSORED HEADLINES
MORE MLB HEADLINES
MOST SENT STORIES ON ESPN.COM
EDITORS' PICKS
Adam Wainwright can become baseball's first 16-game winner.
Preview »

Jose Abreu and Billy Hamilton are this year's top rookies.
Bowden

Are the playoffs better with the Yanks? Will they even make it?
SweetSpot TV