Giants holding their breath
News and notes around the majors including a Giant scare for S.F., and the Expos' near refusal to play a game.
Originally Published:
August 20, 2004
By
Gary Miller
| Special to ESPN.com
| | |
| --- | --- |
| | |
| | Schmidt |
San Francisco's season flashed before its collective eyes Tuesday night, watching Jason Schmidt. Not because the Giants blew a 4-2 ninth-inning lead and a chance for him to add to his league-leading 15-win total, but rather what happened before Montreal tied it. The league's ERA leader had thrown 115 pitches, but didn't even ask Dave Righetti or Felipe Alou if he was pitching the ninth, just headed straight for the mound. The problem was, on his third warmup pitch, Schmidt felt something pull in his right groin and he left the mound without throwing another pitch. The Giants won in extra innings, but their season is shot if Schmidt has anything close to the groin injury that cost him the beginning of the 2002 season, or anything to cause him to miss more than a start. In what is shaping up as a charmed season, the Giants catch some breaks. Schmidt isn't scheduled to throw on the side until Saturday, and with an off day Thursday, and again next Monday, Schmidt's not scheduled to pitch again until Tuesday. If that's sufficient healing time, and he continues on the campaign to the Cy Young Award that Eric Gagne closed him out of last season, the Giants figure to remain a serious threat to the Cubs' and Padres' wild-card hopes, if not the Dodger's division lead.
| | |
| --- | --- |
| | |
| | Nen |
| | |
| --- | --- |
| | |
| | Pierzynski |
You look up and down their roster and you wonder how the Giants are in this thing, let alone leading the wild card. Leadoff man Ray Durham went through a hitless week, and struggles to stay healthy enough to be in the lineup. There's no one to hit in front of, or behind Bonds, meaning he gets pitched to even less. Jerome Williams is hurt, rookies make up most of the rotation, Brett Tomko's been reduced to occasional bullpen work, and the relievers were a thin group before Felix Rodriguez was traded. It was cause for celebration when Robb Nen made an appearance at the stadium this week and played catch! So how do they do it? Newcomer A.J. Pierzynski, who's seldom at a loss for words, can't really explain it, but his crawling to .300 this week and moving into the cleanup hole has helped. Pierzynski said the best explanation is, "we just score a lot of runs. No one besides Barry's hitting all that great, but we just plain score runs." He's right about that. They're second in the NL in runs and first in on-base percentage. But underneath those obvious stats, in addition to getting on, they put the ball in play and lead the league in walks, while recording the fewest strikeouts. They have barely 100 more strikeouts than walks, lead the majors in strikeout percentage, every 7½ at-bats, and are on pace to join the 1975 Cardinals as the only National League teams to lead in that contact category in the designated hitter era. Only two other NL teams are even within 300 walks of their own strikeout total. Pierzynski leads the majors, striking out less than once every four at bats. Bonds is tied for second with Sean Casey.
San Francisco has a knack for finding a fix for whatever ails it. Neifi Perez's lack of production played him right out of the organization, but Deivi Cruz has hit well and played strong defense. Over the past two weeks, he's hitting .354. And after a meager start, J.T. Snow is on one of the most torrid stretches of a peaks-and-valleys career, a weeklong hitting streak over .500.
Frank Robinson not only grew up in the San Francisco area, he managed the Giants from 1981 to 1984. The Oakland native was back in the Bay area this week with his beleaguered Expos, but SBC Park is a long way from Candlestick, and the Expos have little more in common with the Giants than both being Major League Baseball teams, and both having been managed by the other's current dugout boss. The only significant holdover from Felipe Alou's 10 years in the Expos organization, ending with his firing in 2001, is Jose Vidro. The Expos second baseman lit up his former boss with a two-run homer and an RBI single Wednesday. His teammates and coaches practically leaped out of the dugout when Giants fans threw back his fourth-inning shot. They wanted the ball for Jose. It was his 100th home run in the majors, but more significantly to him, Vidro's daughter Anais was in a hospital back in Puerto Rico where the 18-month old was recuperating from a dangerous fevered condition. Vidro knew they got ESPN in her hospital room, and Anais would be watching; and he wanted us to tell her daddy's heart was with her. It played like something out of a Babe Ruth movie.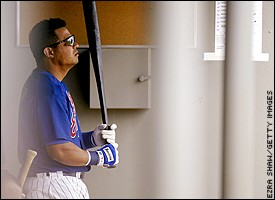 One near certainty, Jose Vidro will be the team's leader next season.
Although Vidro had the benefit of playing in his native country 22 times each of the past two seasons while the Expos wait to be relocated, not even he can be happy about what's happening to this orphan franchise. Wednesday's game was supposed to take place in San Juan back in May, but it was rained out. The Expos and Giants rescheduled it for a common off day in Montreal on Aug. 9. But two months later, while they were playing in New York, the Expos found out Major League Baseball had approved ESPN's request to move a Cubs game in San Francisco to Sunday Night Baseball on Aug. 8. That meant, according to the collective bargaining agreement, the Giants could not be forced to fly across country for a game in the east the next day, let alone Canada. The Expos graciously agreed to play in San Francisco on their last trip in this week, but only if it was not a day/night doubleheader, but rather the old-fashioned consecutive game arrangement where the second game follows half an hour later (remember those? Fans getting two for one, imagine that?) The Expos had an off day Thursday, and didn't want to lose the benefit of extra time off by playing a night game in San Francisco. They also agreed to it back in July, with the understanding that they'd be the home team and bat last in the makeup game as some consolation for sacrificing a home game and playing it at SBC Park.

Well, during Tuesday's game with the Giants, word got to Frank Robinson that they would not be the home team in either of the games the next day. As word spread through the Expos dugout they were furious, compounded by the fact Barry Bonds hit two home runs that night, and they lost in 10 innings. The next morning player representative Brian Schneider and his assistant Brad Wilkerson called a team meeting that lasted nearly half an hour. During the sometimes heated and passionate discussion, the very real possibility was broached of forfeiting the game as an act of protest. Wilkerson likened it to the last straw, and the quarter seasons in Puerto Rico, and the lame-duck status in Montreal and consequent puny crowds in a horrible facility were only part of the feeling of degradation. The players are tired of being pushed around, neglected and taken advantage of by Major League Baseball.

The frustration really started to build a year ago, when Montreal was in legitimate wild-card contention in mid-August and no moves were made, and then in September the roster was frozen because MLB didn't want to commit any financial resources to the team. That not only hindered their competitiveness, it prevented top prospects from getting valuable big league experience, and accruing tenured days in the majors. As Jason Stark chronicles in his latest column, they've also seen every deadline for a decision on permanent relocation shifted into oblivion with double-talk and stalling. The team honestly felt a forfeit was their best option of empowerment and underscoring their seemingly ignored predicament. In the end, the players couldn't bring themselves to affect the other teams in wild card and West division contention by handing a win to the Giants. Apparently the Expos' principles are higher than those who are making the decisions they're currently forced to accept. The Expos ended up winning, but the Giants end up with an extra home game, and less travel than their division rivals. The Expos were so shorthanded for pitching, they literally didn't know who would pitch the second game as the first was ending. As I stood in the dugout, no coach could honestly answer. Former Cub Francis Beltran found a quarter and kidded T.J. Tucker that he was flipping it to see who'd pitch. Although it had nothing to do with Beltran's coin, Tucker did draw the assignment, his first start of the season. He was roughed up, as Bonds homered again in the rout. Just wondering, if Peter Angelos is so threatened by a team moving 40 to 60 miles away in Washington D.C. or northern Virginia, how have the Giants survived with Oakland, the Yankees with the Mets, and the Cubs with the White Sox all these decades?
| | |
| --- | --- |
| | |
| | Beltran |
If you think the Expos got nothing out of the four-way Nomar Garciaparra deal, here's how general manager Omar Minaya sees it. He realized they weren't going to be able to re-sign Orlando Cabrera. When the free agent signed somewhere else, they'd get two draft picks. Instead, he got two players ready to test their major league readiness now, with established minor league credentials, in Beltran and third baseman Brendan Harris. Minaya also got the Cubs to give him Alex Gonzalez so they'd still have an everyday shortstop, and a better chance of re-signing Gonzalez than the departing Cabrera. As for Beltran, who could visually pass for former teammate Carlos Zambrano's brother; his stuff isn't that far behind the intimidating Zambrano, albeit with far fewer theatrics. Montreal envisions Francis being its future closer. On his Dominican winterball team, managed by his new Expos coach Manny Actar; Guillermo Mota and former Giant Felix Rodriguez were setup men for Beltran.
Vidro is the only Expo remaining from Alou's lineup just three years ago, but the previous two seasons, his Opening Day starting pitcher was Dustin Hermanson. To show the serpentine path most Montreal players take, Hermanson was conditioned as a closer in the minors, but Alou not only converted him to a starter, he drew those consecutive Opening Day assignments just two years later. As the frontman in the rotation, Montreal couldn't afford him anymore and shipped Hermanson and Steve Kline to St. Louis. After that, between injuries, he bounced back and forth between the Red Sox bullpen and back to the Cards before being released last summer. But there was Felipe again. After a brief tuneup in Fresno, Hermanson finished the season in San Francisco's rotation, where he has spent most of 2004. Then another former Expo, Matt Herges imploded, and the same Felipe Alou who gave Hermanson his best opportunity and made him a starter, now asked him to close games again. So far so good. Hermanson said Alou has an instinct for pitchers, and while he feels for the guys back in Montreal, like himself, almost everyone he played with has moved on. Hermanson said the best thing about being an Expo is that players get an opportunity they might not get anywhere else. Back when he was with the Padres, Hermanson was hopelessly stuck behind Trevor Hoffman. His experience in Montreal has led him to where he is today, closing games for a playoff-contending team.
| | |
| --- | --- |
| | |
| | Sledge |
A current Expo taking advantage of that opportunity is Terrmel Sledge, who probably wouldn't be ready to start on any other major league roster, but often plays right field and bats cleanup for Montreal. A former "dirtbag" like teammate Rocky Biddle, from Long Beach State, Sledge played on coach Dave Snow's last team there and in the 1998 College World Series. I wondered if Terrmel, since his dad is from Georgia, was any relation to "When a Man Loves a Woman," Percy Sledge. With the biggest of grins, Terrmel quoted his various relatives and said, "they say ..." A distant relative? "They say ..." Any relation to Sister Sledge? "They say ..." Who needs documentation when you've got a family chorus of, "they say!" Even if Sledge is no relation to Percy, there's clearly some of that stirring soul bubbling up in him. Although he likes all kinds of music, Terrmel's eyes light up when he talks about his passion for "old school R&B" like Al Green, Luther Vandross, Teddy Pendergrass and Marvin Gaye. Wouldn't mind hearin' that in the clubhouse one day.
| | |
| --- | --- |
| | |
| | Ledee |
As Ricky Ledee continues to acclimate to his new team in San Francisco, he still hasn't bonded particularly with anyone, and doesn't even know all his coaches names. Painfully shy at times, Rickey misses his family immensely. That's why the Giants' trip to Philadelphia was so gratifying for him. For all the infamy associated with Philly fans, they gave Ledee a warm welcome whenever he came to bat in last weekend's series, and he stayed behind on Sunday to help celebrate his daughter Teresa's second birthday Sunday. The jet streams are notorious in Philadelphia's new Citizens Bank Park, and not only for carrying out to produce the NL's highest home run total. Ledee and Doug Glanville say there's a bizarre wind pattern in the new park that takes fly balls in the alleys, especially in right field, and severely re-directs them toward center. As Ledee was getting acclimated to that tricky flight pattern, he now has to adapt to SBC Park. Michael Tucker and others who have played in the bricked space in front of McCovey Cove will tell you there's a recurring wind shear just above the wall that regularly knocks down fly balls hit to right, dampening home run totals and mystifying outfielders. Ledee has quickly discovered, that even during batting practice, a left-handed hitter has to drill a ball exceptionally hard to knife through the wind effect. All this makes Bonds march toward 700, sprinkled with "splashdown" shots, all the more remarkable.
| | |
| --- | --- |
| | |
| | Robinson |
Which brings us back to Frank Robinson, side by side with Bonds at the All-Star game in Houston at the gathering of the ever-growing, yet still exclusive fraternity of 500 home run hitters. As Robinson has witnessed members like Ted Williams and old rival Eddie Matthews pass on in recent years, he couldn't help but marvel at how young the group was getting, with active players like Bonds, Sammy Sosa, Ken Griffey Jr. and Rafael Palmiero, as well as recent retirees Mark McGwire and Eddie Murray, rubbing shoulders with Hank Aaron, Willie Mays, Ernie Banks and Harmon Killebrew. Robinson may have felt old at that gathering, but he always feels young back by the bay. Turning 69 on the last day of the month, Robinson will always be the youngest in his family of 10 kids. There to remind me of that was his brother John. Three years Frank's senior, John was also a star athlete. Not in baseball, but basketball. In fact, and Bill Russell will acknowledge this ... he kept Russell on the bench his senior year. While Russell would play with Frank his senior year, and go on to a rare scholarship at San Francisco and a Hall of Fame career, John took the safe route, and a 20-year enlistment in the Air Force. It enabled him to develop an expertise for nuclear medicine. Retired to Fresno, Calif., he's so adept at the advanced medical practice of implants and internal scanning, he's working for Kaiser Permanente at age 72. Whenever the Expos are in town, John's at the ballpark, this week serving as one of the Giants famous "ball dudes" along each foul line.

Gary Miller is a reporter and play-by-play announcer for ESPN's major league baseball coverage.
MLB commentator
Gary Miller, who joined ESPN in 1990, serves as Major League Baseball commentator for ESPN DayGame and select game telecasts. He's also served as a host of Baseball Tonight and as an anchor for SportsCenter.
SPONSORED HEADLINES
MORE MLB HEADLINES
MOST SENT STORIES ON ESPN.COM