Canada loses another team to U.S.
Updated:
September 29, 2004, 9:15 PM ET
Associated Press
MONTREAL -- Au revoir, Expos.
The team's final game in Montreal on Wednesday night brought sadness and a flood of memories back for Canadians and former players, who had long ago resigned themselves to saying so long to the country's first major league team.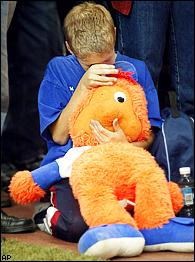 APHugo Lachappelle, hugging an Expos mascot Youppi doll, will be among the fans who miss the Expos next season.
"I'm really hurting," said Tim Raines, the longtime Expos star now back with the team as a coach. "I'm also hurting for the fans. It's been difficult but baseball is a business. It happens in life."
The official announcement of the Expos' move to Washington, ending their 36-year run in Montreal, came about three hours before they play Florida.
"I have a hollow feeling in the pit of my stomach about another Canadian team disappearing from major league sports," Toronto Blue Jays president Paul Godfrey said. "I've watched the Winnipeg Jets, the Quebec Nordiques, the Vancouver Grizzlies and now the Montreal Expos heading south. That's not good for Canada or for sports in this country."
The Expos' move has been a long time in coming. Major League Baseball planned to eliminate the club and purchased it in 2002 for that purpose. Contraction failed but an exhaustive relocation effort followed.
Hall of Famer Gary Carter, who spent 11 years in Montreal as a star catcher and three more as a broadcaster, felt the move was inevitable.
"When the franchise was awarded in 1969, I think it was a novelty for the fans," Carter, now a roving catching instructor with the Mets, said from New York. "It's a hockey country, it just is. It was understood baseball took a back seat."
Rather than dwell on the negatives, Carter preferred to bring up better times.
"I'm getting flashbacks of great memories, the city, the fans, the great games up there," he said. "My finest memories are when we won the second half in 1981. That was the ultimate."
Raines also tried to remain upbeat, saying: "Sure you're going to be upset, but you should still be proud of all you've done here."
He recalled the days when the team was known as Nos Amours -- our loved ones -- with a rabid following that rivaled that in the best of baseball towns.
"This was probably one of the loudest places to play in baseball for a long period of time," Raines said. "We had a lot of great players, the fans enjoyed the game, they came and had fun and it was enjoyable to be here. You knew the fans were going to come and cheer hard."
The club started in 1969 at Jarry Park, a lively playground for the new franchise, before moving to Olympic Stadium.
But over the year, constant payroll cuts led to a revolving door for star players such as Pedro Martinez, Larry Walker and Moises Alou, leaving fans bitter, jaded and apathetic. Things only worsened under baseball's ownership and the players suffered.
"It's unfortunate because it's a beautiful city and I had a lot of good times here, but it's no fun having no support from your fan base," said former Expos pitcher Carl Pavano, who was to start Wednesday night for the Marlins. "All the things that have gone on in the past tarnished the relationship and it's unfortunate for the players. I think the best thing is to give them a home where they'll have support."
Philadelphia reliever Rheal Cormier, a Canadian native, said the situation had deteriorated too far.
"I've been an Expos fans since I was kid," he said. "It was great then, it's sad to see where it is now with the crowds and all that stuff. But I think the team deserves better."
Expos rookie Terrmel Sledge understood why Montrealers had turned on the club.
"I don't know all the history but I know this stadium sold out back in the day and that baseball took away all their superstars," he said. "They're probably fed up with it. I would be, too."
Even though the team is getting ready to move, the Expos' mascot will not disappear.
A veritable cult figure in Quebec, Youppi! -- his name officially includes an exclamation point -- will continue in some form, Expos vice president Claude Delorme said.
"Youppi will not die with the death of the Expos," he said.
Delorme said the new ownership group in Washington could decide to bring Youppi along with the rest of the Expos.
If not, Delorme said he has received interest from some individuals in Quebec who would look to buy the mascot's name and persona from the club.
The orange mascot of ambiguous species has been riling up Expos fans at Olympic Stadium since 1979. It is not uncommon to see the furry fellow followed by a throng of kids and adults wanting to pose for a photo or get an autograph.
"I was out with some friends from around town the other night, and they were telling me how they used to come to the ballpark just to see Youppi and then they'd go home," Expos outfielder Brad Wilkerson said. "I know my little girl loves it when he plays with her."

Copyright 2004 by The Associated Press
SPONSORED HEADLINES
MORE MLB HEADLINES
MOST SENT STORIES ON ESPN.COM
EDITORS' PICKS
The Cardinals and Brewers begin a crucial series.
GameCast

Buster Olney reveals the top August trade candidates.
Blog

MLB: Replay judgment was correct in Reds-Marlins game .
Story »