Unheeded warnings
Originally Published:
November 3, 2004
ESPN.com Special Report
The judge summarized Ken Caminiti's revised probation agreement before slamming the gavel down. There would be no more drug use. And no more contact with the woman in his life. Another slip up, he warned, and the former major-league slugger had better be prepared to pay the price.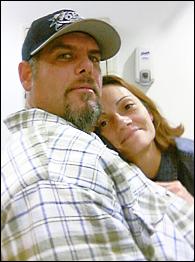 The last known photo of Ken Caminiti, taken with Maria Romero the day before his death.
Caminiti acknowledged that he understood what was at stake, promised that he would abide by the ruling, then scribbled his name at the bottom of the court document.
That four months later he would find himself behind bars for failing yet another drug test was evidence of his love-hate relationship with the vices in his life. That, just five days after his release from a Houston jail, he fell unconscious to the bathroom floor of a Bronx apartment is proof positive of the lure of his temptations.
Ultimately, the desires led him to the end of his life.
The autopsy results released Monday by the New York City medical examiner cite the cause of Caminiti's death as "acute intoxication due to the combined effects of cocaine and opiates." Coronary artery disease and an enlarged heart were listed as contributing factors.
There was no mention, of course, of his often caustic relationship with Maria Romero. But a single photo of the two, one of several images captured on his cell-phone camera in the days before his death, shows the two snuggled together on the couch.
"They were basically bad for each other, that was the way I would describe it -- fatal attraction," says Albe Ethington, Caminiti's friend and neighbor in a Houston suburb. "Ken said she could be the sweetest person you ever saw, and then she could also be the meanest person that he'd ever been with."
Romero discounts the naysayer's account of her relationship with Caminiti. "We had our ups and downs," she says. But they were good for each other "because we loved each other."
ESPN's "Outside The Lines" retraces the final days of Caminiti's life, from his release from the Harris County Jail in Houston, to his trip to visit Romero, to his early morning excursion through the streets of Brooklyn's impoverished Bushwick neighborhood with a convicted drug dealer, to the emergency room at Lincoln Hospital in the Bronx where he was pronounced dead as the twilight of night beckoned the end of the last new day for the tormented third baseman.
EDITORS' PICKS
Minnie Minoso, who was baseball's first black Latin star, died Sunday at 92.
Story »

Kevin Cash and the Rays are creating a new identity.
Jayson Stark »

James Shields believes the Padres are contenders.
Watch

MOST SENT STORIES ON ESPN.COM