Jerseys were to be unveiled Dec. 16
Updated:
February 2, 2005, 7:40 PM ET
Associated Press
WASHINGTON -- Seven weeks later than planned, the Washington Nationals put on a fashion show.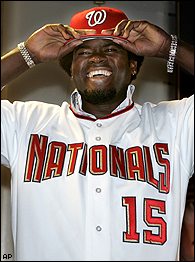 The Washington Nationals can check off one thing to do now that they have fresh uniforms -- here sported by Cristian Guzman.
Outfielder Jose Guillen, shortstop Cristian Guzman, starter Zach Day and closer Chad Cordero modeled their new jerseys and signed autographs at a downtown restaurant Wednesday in a rare public function for a team scrambling to get settled in its new home by opening day.
"It's going to be a new city for all of us," said Cordero, whose plans to go sightseeing were thwarted by a delayed flight. "It's going to take a little time to figure out where everything is and get used to everything, but for the most part it's going to be fun. It's the nation's capital."
The jerseys were to be unveiled Dec. 16, but the event was postponed when a vote by the District of Columbia Council temporarily put the franchise's relocation from Montreal in doubt. The move was back on track a week later, and the jerseys were then revealed on the team's Web site so fans could start buying them.
The home white jersey features the word "Nationals," while "Washington" adorns the road gray jersey. A third, alternate jersey remains in the works.
Despite the team's limited presence in the city -- even the offices are temporary trailers on an RFK Stadium parking lot -- the public reception has been positive. About 18,000 season tickets have been sold, and merchandise sales have been strong.
"In the long run, what we all know about a good baseball town is if you win, they will come," general manager Jim Bowden said. "And to know that we're moving into a new stadium and that we've got a lot of good young players, this is a team that can be built pretty quick to win."
Day arrived three days ago with his wife and has been looking for places to live. Others have been checking out neighborhoods on the Internet. They also followed from afar the city's on-again, off-again, on-again talks with the commissioner's office.
"I tried to see what was going on," Cordero said. "That one week where they stopped everything, I was like, 'Holy cow, what's going on? Where are we going to be next year?' But now we know we'll have a natural home."
Pitchers and catchers report to the Nationals' spring training base in Viera, Fla., on Feb. 15, with position players following five days later. While practice carries on in the Sunshine State, work will continue in Washington to complete a long list of hurried tasks, including the renovation of RFK, the hiring of more employees, creation of a mascot, completion of a radio contract and preliminary work on logistics for a television deal.
"Literally, it's 65 items," team president Tony Tavares said. "And I don't mean little things, like 'Call Mom' or anything."

Copyright 2005 by The Associated Press
SPONSORED HEADLINES
MORE MLB HEADLINES
MOST SENT STORIES ON ESPN.COM
EDITORS' PICKS
David Ortiz is on a path that could lead him to Cooperstown.
Howard »

The Nats need every win as they take on the Marlins.
GameCast

A look at eight potential destinations for Jon Lester.
Jayson Stark »
'47 Brand Men's Washington Nationals Calgary Knit Hat Shop »