Ball part of traveling souvenir show
Updated:
February 3, 2005, 8:52 PM ET
Associated Press
BOSTON -- The red carpet was set up outside the Green Monster. A Brinks truck rounded the corner, two gun-toting guards got out and cameras recorded it all.
The ball used for the final out of the World Series finally reached Fenway Park on Thursday.
"This is quite the thing," guard Joseph Fleury said. "This is the cat's meow."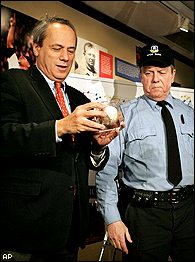 Red Sox president and CEO Larry Lucchino, left, receives the ball that was caught for the World Series' final out.
The Red Sox made a big deal over a slightly soiled sphere with a hologram sticker certifying it as the ball first baseman Doug Mientkiewicz caught in St. Louis last Oct. 27, the final out of the four-game sweep that gave Boston its first World Series championship in 86 years.
Mientkiewicz caught it from pitcher Keith Foulke, then put it in a safe deposit box and claimed ownership. Eventually, he agreed to loan the ball to the Red Sox for one year, leaving the question of ownership to be decided.
Mientkiewicz gave the ball to Red Sox owner John Henry, and Brinks got the ball Wednesday from a safe deposit box of Henry's at a Florida bank. Brinks accompanied the ball on a flight to Boston that landed early Thursday, then transferred the ball to the truck.
On Thursday, it was in the secure grip of John Wynott, the younger guard, as a chilly rain fell on dirty snow banks and a meter maid went about her business plastering orange tickets on windshields.
With only a few fans watching and Fleury guarding his back, Wynott carried the ball in a black canvas bag and walked the 200-foot red carpet to an escalator that took him to the Hall of Fame Club inside Fenway where team president Larry Lucchino waited eagerly.
"You've got something for us, I think," Lucchino said with a smile.
He signed a pink receipt, held the small carton and sliced it open with a knife. He dumped out the plastic foam peanuts (no Cracker Jacks), removed the bubble wrap and clutched the prize enclosed in a clear plastic cube.
Lucchino thanked Mientkiewicz, who wasn't present, and said "I'm relieved" that an agreement was reached.
"It's an important part of Red Sox history and it should be a ball that's honored and shared," said Lucchino, standing before a reproduction of a 1918 headline in the Boston Evening Globe: "Sox Win Championship."
The ball's first stop after the ceremony was in nearby Braintree, one of about 100 cities and towns that have either viewed the World Series trophy or are on the schedule for a visit. Now the trophy will have company on its journeys.
The Red Sox want as many fans as possible to view the traveling souvenir show.
"You take something ordinary, a baseball that you can buy in a store," said Charles Steinberg, the team's executive vice president for public affairs, "but because of its special nature, it's sanctified and it's now a special ball."
Mientkiewicz agrees.
"I want the fans to see it, and that's what both the Red Sox and I agreed on," he said last week after being traded to the New York Mets. "They waited a long time to see that ball and to live it. The fact that I had it was just so we could keep it and give it to the fans and let them see it."
Both guards were excited to perform the awesome duty of protecting a ball that ended years of frustration for Red Sox fans.
"There's monetary value and then there's historic value," Wynott said. "Something like this you really couldn't replace."
Said Fleury: "This tops the list" of items he's delivered.
Was the hoopla just a little over the top?
"If this had been some product of marketing imagination, the degree of festivity surrounding it could be viewed with a chuckle," Steinberg said. "There's nothing commercial about it."
But on the floor, the ball just rested in a new display case where Lucchino had placed it. The object of the excitement had no comment, a simple symbol that needed no words to convey its meaning.

Copyright 2005 by The Associated Press
SPONSORED HEADLINES
MORE MLB HEADLINES
MOST SENT STORIES ON ESPN.COM
EDITORS' PICKS
Which of two top FAs to be should you bet on?
David Schoenfield »

Corey Kluber and six others should get contract extensions.
Bowden

The Rangers are among those hoping for a 2015 do-over.
Olney