The burden of proof
Updated:
February 14, 2005, 11:25 AM ET
By
Darren Rovell
| ESPN.com
Two and a half years ago, literary agent Ronald Laitsch began pitching publishers on a proposed book by Jose Canseco. In it, the former big-league slugger would admit to bulking up on steroids and name several well-known baseball players who used them alongside him.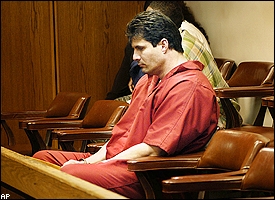 Some publishers worried they might find themselves in court with Jose Canseco facing a libel suit with his proposed book.
But Laitsch said the proposal was turned down in meeting after meeting with publishers who feared potential libel suits could compromise any gains made.
"Editors were real high on the book, but the lawyers at the publishing houses had a lot of problems with it," said Laitsch, who Canseco left for another agent though their contract was never terminated. "He didn't have any notes to back up anything he was saying."
Ironically, Laitsch said, one of the publishers that turned down the book was Regan Books, the HarperCollins imprint that released Canseco's "Juiced: Wild Times, Rampant 'Roids, Smash Hits, and How Baseball Got Big" on Sunday.
The deal was consummated after Laitsch and sportswriter Bill Chastain, the original co-author of Canseco's book, were no longer associated with the project.
It is not clear why those at Regan changed their minds about the book.
Laitsch said he hasn't read the book, so he doesn't know what, if anything, has been changed from the original manuscript that he had submitted to publishers. Jennifer Suitor, Regan Books' director of publicity, would not comment on why the publisher decided to purchase the book or if the company was concerned about a possible lawsuit.
In the book, Canseco admits to using steroids with sluggers Mark McGwire and Jason Giambi when they were teammates on the Oakland A's. Giambi reportedly told a federal grand jury investigating the BALCO scandal that he had used steroids, though during a news conference Thursday he only would say that he "told the truth" when questioned before the grand jury. McGwire told the New York Daily News that he would not comment until he read the book.
In the book, Canseco said McGwire created a smoke screen to hide his alleged steroid use: "I don't believe Mark McGwire was even taking Andro. Why would he? The bottle of Andro was just sitting in his locker; that doesn't mean he actually used it. To me, it seems more likely that the whole thing was an illusion. I'm virtually certain that Mark created the Andro controversy as a distraction. The one surprising thing was how well the set-up worked."
Canseco wrote that he personally injected Juan Gonzalez, Ivan Rodriguez and Rafael Palmeiro "many times" and "got them a supply." All three have denied that they have used steroids. Canseco also names others who he said he believes could have been steroid users, including Roger Clemens, Bret Boone and Sammy Sosa.
On Clemens: "We talked about what steroids could do for you, in which combinations, and I've heard him use the phrase 'B12 shot' with respect to others."
On Boone: "I hit a double, and when I got out there to second base I got a good look at Boone. I couldn't believe my eyes. He was enormous. 'Oh my God,' I said to him. 'What have you been doing?' 'Shhh,' he said. 'Don't tell anybody.'"
On Sosa: "It looked like [Sosa] was trying to make up for lost time by bulking up faster than McGwire ever had. He gained thirty pounds, just like that, and got up to 260 (pounds) so fast, you could see the bloating in his face and neck. It seemed so obvious, it was a joke."

Clemens' agent Randy Hendricks called the assertion "absurd." Boone said it was "ridiculous." Sosa has yet to comment publicly on the matter.

Whether any of these players will seek libel suits against Canseco remains to be seen. Though some may view their failure to sue Canseco as an admission of guilt, the libel test is hard one. In order to win a libel case, a public figure like a professional athlete would have to prove that a certain statement or story was untrue, that the lie hurt his reputation and that Canseco knew it was wrong when he wrote it.

According to Tom Rhodes, an Atlanta-based attorney who specializes in libel cases, two-thirds of all media libel cases are dismissed before they are tried in court. If a trial takes place, Rhodes said, juries rule in favor of the plaintiff two-thirds of the time, though most of those verdicts are reversed on appeal.

"Before any one of these athletes sues for libel, they should realize that they are going to be part of a continuing story that will last for a long time," Rhodes said. "If they don't sue, the story is more likely to disappear."

Regan Books, whose motto is "Not Just The Same Old Story," has had a recent run of bestsellers, including Amber Frey's "Witness: For the Prosecution of Scott Peterson," Michael Moore's "Stupid White Men" and Sean Hannity's "Deliver Us From Evil." The publishing company's most recent success in the sports publishing world is "The Games Do Count," a New York Times bestseller written by Fox anchor Brian Kilmeade.

Darren Rovell, who covers sports business for ESPN.com, can be reached at Darren.Rovell@espn3.com
ESPN.com Sports Business reporter
ESPN.com's sports business reporter since 2012; previously at ESPN from 2000-06
Appears on SportsCenter, ESPN Radio, ESPN.com and with ABC News
Formerly worked as analyst at CNBC
EDITORS' PICKS
Braves' T-shirts read, "Hello, my name is ..."
Jayson Stark »

Schoenfield has 10 things he's excited to watch this spring.
Story »

Christopher Crawford's top 50 fantasy prospects for 2015.
Story

MOST SENT STORIES ON ESPN.COM