Fans cheer scandal-plagued slugger
Updated:
March 3, 2005, 10:30 PM ET
Associated Press
TAMPA, Fla. -- For Jason Giambi, his first step was a pair of walks.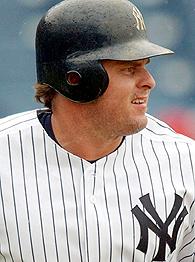 AP Photo/Tony GutierrezThe Yankees appear to be stuck with the underproducing Jason Giambi.
Giambi returned to the major leagues after an offseason filled with accusations of steroid use, walking twice and grounding out Thursday as the New York Yankees opened the exhibition season with a 2-2 tie against the Pittsburgh Pirates.
"This is fun, a set of little hurdles -- the intrasquads, get a chance to play in a real game," Giambi said. "I'm excited to get out there, getting a chance to play and have positive at-bats. That's the biggest thing, tracking the ball well. And when you start doing that, you can start getting pitches to hit and hitting them hard and go from there."
Fans in the sellout crowd of 10,041 cheered Giambi on the cool, gray afternoon, filled with the usual opening-day fireworks and military flyover.
"They've been unbelievably supportive, so that's exciting," Giambi said.
After playing on a bad knee for the second half of 2003, his 2004 season was wrecked by a sprained right ankle, an intestinal parasite and a benign pituitary tumor. He hit just .077 with one homer and five RBI in 52 at-bats after the All-Star break, too weak to come back and contribute in the stretch run.
In December, the San Francisco Chronicle reported Giambi told a federal grand jury in 2003 that he had used steroids. While Giambi has issued general apologies to fans and teammates, he has refused to discuss steroids, and New York investigated whether it had grounds to terminate his $120 million, seven-year contract, which calls for him to receive $82 million over the final four years.
He called the difference between this year and last year "night and day."
"Last year I couldn't even get out of bed," he said. "It's definitely a positive I'm making it to the ballpark every day."
Giambi was the designated hitter in the opener and will be a DH for much of spring training because the Yankees want him to concentrate on his offense. He had visualized this day, imagining he was hitting the ball up the middle.
"You play it over in your heads a million times," he said, "but until you actually get a chance to play on the field and go through the motions, you just kind of never know."
Tino Martinez, playing first base, got the biggest cheers. In his first game with New York since the 2001 World Series, he grounded out and walked. Martinez, who helped the Yankees win four World Series titles from 1996-2000, has been extremely supportive of Giambi.
"He's confident," Martinez said. "He looks in great shape. He has a great attitude. It's all about attitude. He wants to be here. He wants to do well this year and put everything behind him, and that's all you can ask for."
Torre liked what he saw, especially after Giambi's struggles last summer.
"He was very slow to the ball, which was good," Torre said. "He wasn't rushing himself or jumping at the ball."
Hitting coach Don Mattingly has worked with Giambi to restore his batting eye and regain his ability to hit to all fields. The last two years, Giambi became a pull hitter and teams shifted to have three infielders on the right side. And when he came back last September, he didn't have the necessary stamina.
Now Mattingly thinks Giambi's good at-bats will begin to snowball.
"You really start to gain confidence because you're seeing the ball and the ball's starting to slow down for you," he said. "And if you get to that point, then you know it's just a matter of time before you hit."
New York got its runs in the first inning when Hideki Matsui hit an RBI double and Bernie Williams followed with a run-scoring grounder.
Tanyon Sturtze, starting because Randy Johnson has a slightly injured calf, retired all six batters he faced, using what Torre called "nasty stuff." Pittsburgh got its runs on Matt Lawton's RBI single in the third against Alex Graman and Craig Wilson's run-scoring single in the sixth off Felix Rodriguez, a fly ball that dropped in when left fielder Damian Rolls turned the wrong way, then slipped.
New Yankee second baseman Tony Womack, used to hitting at the top of the order, batted ninth and went 0-for-2.
Game notes
Johnson threw on flat ground for the second consecutive day. Pitching coach Mel Stottlemyre said Johnson will have his normal between-starts bullpen session Sunday and make his spring training debut Tuesday against Atlanta at Kissimmee. ... Closer Mariano Rivera is slated to throw off a bullpen mound Saturday and could pitch in a game early next week. He threw batting practice for the second time in three days on Wednesday. ... C Jorge Posada, who has a stiff neck, is scheduled to make the road trip to Bradenton for Friday's game against the Pirates. "If I'm on the trip, I'm playing," Posada said. ... RF Gary Sheffield, coming off left shoulder surgery, could play Sunday or Monday.

Copyright 2005 by The Associated Press
EDITORS' PICKS
Giants-Royals

Sit back and enjoy the improbable 2014 World Series.
Jerry Crasnick »

Who will win the 2014 World Series: Royals or Giants?
Hot Button »