Bonds: 'This isn't about baseball'
Barry Bonds said Friday he is far more concerned with his long-term health than returning to baseball, Pedro Gomez reports.
Updated:
May 31, 2005, 12:32 PM ET
By
Pedro Gomez
| Special to ESPN.com
SAN FRANCISCO -- In his first public comments to reporters since his infamous picnic table press conference with his oldest son Nikolai present on March 22 in Scottsdale, Ariz., Barry Bonds said he is far more concerned with his long-term health than returning to the baseball field.
In a lengthy interview with ESPN and MLB.com, Bonds touched on a variety of subjects. But more often than not, he returned to his personal well-being now that he is fighting off a mysterious infection he and the Giants refuse to name.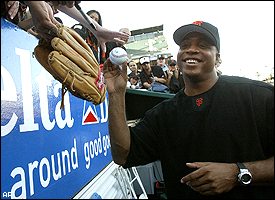 Barry Bonds not only signed autographs Friday, he discussed his future with reporters.
"Right now, all I care about is being healthy," Bonds said inside the Giants clubhouse before San Francisco hosted Oakland Friday night. "This isn't about baseball. I want to be able to go skiing with my kids and not having my six-year-old daughter be able to outrun me. It's more of a health issue, not a baseball issue. Once the infection set in, it changed my whole perspective."
Bonds, who has not played since last season and has undergone three surgeries on his right knee since Jan. 31 -- all performed by Arthur Ting, who is serving a five-year probation with the California State Medical Board, his second since 1996 -- said he has absolutely no timetable for his return to the Giants lineup.
Bonds, who was transferred to the 60-day disabled list Friday, stopped taking intravenous antibiotics on Tuesday and said he is now taking oral medications in high dosage levels in order to continue to fight off the infection that led to his third surgery on May 2nd.
"At the beginning, when I was on the IV, I thought I was going to die," Bonds said. "It's a scary situation. With the right medications, it will get better. Technically, I could be on this medication for months."
He said he has had the knee drained twice since the May 2 surgery, though the swelling is nothing like the earlier times, when he "had to have my knee drained more times than I could count."
Bonds, who is routinely undergoing blood tests to monitor what he called a "crazy, out there," white blood cell count level, said he was told he acquired the infection while submerged in water, which could have been a whirlpool.
"I've been told it's an open water infection," Bonds said.
Giants head trainer Stan Conte, who is expected to have more control over Bonds' next rehabilitation process, is unsure of the bacteria's origin. But he did confirm it is not a staph infection, considered extremely dangerous.
"The source of the organism is under investigation," Conte said. "It could live in a lot of places. We're pretty sure it did not originate in the Giants clubhouse or trainer's room. Sometimes you can identify where it started and sometimes you can't. We're working on it."
Bonds is expected to remain on oral antibiotics for at least another 10 to 14 days. Although he was able to begin very preliminary range of motion exercises, he cannot start a more thorough rehabilitation process until he is off the medication.
"I still keep up with the team," he said, "wishing I was there. All I care about is getting back into the war with my boys."
Bonds is off crutches and walking as well as he has in weeks, though he still walks gingerly when walking up or down staircases.
"I have to be smart about my leg," Bonds said.
When asked if he was alluding to his earlier rehabilitation after his initial surgery, which sources said went awry after an especially taxing March 10th workout administered by Harvey Shields and Greg Oliver, a pair of assistant trainers the Giants were forced to hire at Bonds' behest, the left fielder said, "There isn't anything that could have been done differently."
The two assistant trainers are on the Giants payroll, but neither is listed in the club's media guide. In addition, they are the only trainers whose lockers are inside the Giants main clubhouse, each situated next to Bonds' locker.
Bonds had his second surgery just seven days after the March 10 workout, which, coincidentally, was his most extensive and last workout of spring training. The day's work included football-type drills as well as quick-burst running exercises and agility drills.
Bonds, who turns 41 on July 24th, ranks third on the all-time home run list with 703, trailing only Babe Ruth (714) and Hank Aaron (755).
Bonds has also been at the center of the BALCO steroids controversy, his name directly linked to Greg Anderson, who has been indicted for providing performance-enhancing drugs to elite athletes. Bonds and other elite athletes were subpoenaed to testify in front of a federal grand jury looking into the BALCO case late in 2003.
Pedro Gomez, who is a bureau reporter for ESPN, covered the Oakland A's from 1990-97 for the San Jose Mercury News and the Sacramento Bee, and was the national baseball writer for the Arizona Republic from 1997-2003.
ESPN's Pedro Gomez covered the Oakland A's home and away nearly every day from 1992-97 for the San Jose Mercury News and Sacramento Bee and then became the national baseball writer and later a general columnist at the Arizona Republic before becoming an ESPN bureau reporter in 2003.
SPONSORED HEADLINES
MORE MLB HEADLINES
MOST SENT STORIES ON ESPN.COM
EDITORS' PICKS
Matt Kemp's trade to the Padres is finally done.
Story »

A path to the playoffs for all teams in the AL East.
David Schoenfield »

Trouble ahead?