Bonds reality show to debut on ESPN2 April 4
Updated:
March 1, 2006, 9:20 PM ET
Associated Press
SAN FRANCISCO -- Barry Bonds' reality TV show chronicling the slugger during his pursuit of Hank Aaron's career home run record will debut April 4 on ESPN2, the network announced Wednesday.
The show, titled "Bonds on Bonds" and produced by Mike Tollin and Brian Robbins, will offer a weekly behind-the-scenes look at Bonds and the San Francisco Giants throughout the season. Bonds, who turns 42 in July, enters 2006 with 708 homers, seven shy of passing Babe Ruth and 48 from breaking Aaron's mark.
"It was over 10 years ago when Mike Tollin interviewed me for the Hank Aaron documentary and I said at the time that no one will ever get close to 755," Bonds said in a statement. "At the age of 42 to finally have a chance to catch legends like Babe and Hank is really a mind-blowing honor."
The first episode will be an hour long and air April 4 at 8 p.m. ET on ESPN2. The rest of the episodes air at 7 p.m. ET on Tuesdays throughout the season. ESPN said it has an agreement to air 10 hours of programming, with most episodes being a half-hour and some an hour.
Bonds has already been followed around lately by his own videographer, who has been chronicling his every move at spring training, including in the locker room. There will be two to three cameras filming Bonds most of the season. The show will also include archival footage and game highlights.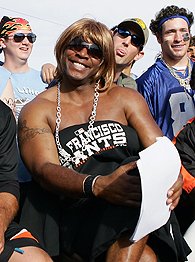 Lisa Blumenfeld/Getty ImagesBarry Bonds's new reality show on ESPN2 isn't likely to include a glimpse of the slugger impersonating Paula Abdul, as he did in spring training this week.
Giants manager Felipe Alou said earlier this spring he had no concerns about the show becoming a distraction in the clubhouse.
"I don't believe it will affect this veteran team," Alou said. "The main guy is Barry and if he does his thing with the bat and is not affected by it, I don't think we'll be."
Bonds is not expected to play Thursday in San Francisco's spring training opener against the Milwaukee Brewers in Phoenix. It looks as though his first game might not come until Sunday, when the Giants host the U.S. team from the World Baseball Classic at Scottsdale Stadium.
The designated hitter will be in use for that game.
"Barry will tell me when he's ready," Alou said.
For the second straight day, Bonds dressed up like Paula Abdul on Wednesday to judge the Giants' version of "American Idol." Bonds opted for a Giants T-shirt tied at the midriff and a skirt instead of the black strapless dress he wore for the event Tuesday.

Copyright 2006 by The Associated Press
SPONSORED HEADLINES
MORE MLB HEADLINES
MOST SENT STORIES ON ESPN.COM
EDITORS' PICKS
The Padres would become a legit candidate to win the NL West if they acquire Cole Hamels.
Olney

Justin Verlander should be a "super reliever" for the Tigers.
Firstman »

A path to the playoffs for each team in the AL West.
David Schoenfield »