NBA MVP Nash takes BP, plays catch with Giants
Updated:
March 22, 2006, 9:39 PM ET
Associated Press
SCOTTSDALE, Ariz. -- Steve Nash looked good in a different shade of orange.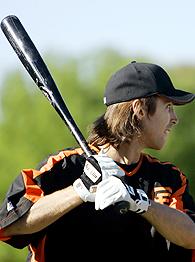 AP/Eric RisbergNash gave up playing baseball in favor of basketball when he was 13 years old.
Nash, the Phoenix Suns' star point guard and last season's NBA MVP, took batting practice and played catch in the outfield Wednesday before the San Francisco Giants' exhibition game against the Los Angeles Angels of Anaheim.
Nash was a guest of Giants outfielder Randy Winn, his longtime friend and college basketball teammate at Santa Clara. The NBA's assists leader faced five sets of pitches from coach Luis Pujols -- and he did better than he expected, showing good right-handed form while lining several hard shots into the outfield among several swinging misses.
Wearing full Giants gear and bright red spikes -- "for Santa Clara," he said of his Bay Area alma mater's colors -- Nash hit in the same group as Barry Bonds, who returned to the club for his first batting practice since last weekend.
"I was like a kid in a candy shop," said Nash, who's just six MVP awards behind Bonds. "It's been a long time since I've played, so to make contact is nice."
Nash hasn't played baseball since he was a 13-year-old growing up in British Columbia. He gave it up for basketball, eventually teaming with two-sport athlete Winn as Santa Clara's two point guards.
Though Nash enjoyed playing hoops with Winn, he's certain the former All-Star chose the right profession.
"Yeah, last time I checked, he's a multimillionaire player on the [U.S.] national team," said Nash, who's averaging 10.8 assists per game.
Nash follows Winn's major-league exploits in his offseason, and his buddy gave him some sage advice about not looking foolish in batting practice: "He just told me to swing easy," Nash said.
Later, Nash shook hands in the clubhouse and spoke at length with Giants Hall of Famer Willie Mays, Bonds' godfather. Nash and Mays signed baseballs for each other -- though Mays had a better idea.
"Hey, anybody got a basketball in here?" Mays asked the room.

Copyright 2006 by The Associated Press
SPONSORED HEADLINES
MORE MLB HEADLINES
MOST SENT STORIES ON ESPN.COM
EDITORS' PICKS
These players are vital to their team's success.
Blog

Ranking baseball's 30 farm systems for 2015.
Keith Law