White Sox celebrate World Series title at '06 opener
Updated:
April 2, 2006, 11:32 PM ET
Associated Press
CHICAGO -- Fans cheered as soon as the White Sox emerged from the dugout to warm up Sunday night.
Ready to celebrate? You bet, especially after a five-month wait.
Their roar only got louder during a colorful ceremony before the major league opener against Cleveland, a celebration of Chicago's first World Series winner in 88 years.
| | | |
| --- | --- | --- |
| | " | I still have the taste in my mouth, how good the season was, how my country reacted and how the fans appreciated it. " |
| | | — White Sox manager Ozzie Guillen, on Chicago's World Series title |
When the final out of the Game 4 clincher in Houston was replayed on the large center-field scoreboard at the end of a video retrospective, four championship banners hanging beneath outfield light poles were uncovered. As fans sheered, fireworks went off behind the left-center field fence.
One banner saluted the White Sox World Series championships in 1906 and 1917, another was for last year's winner, a third hailed the team's AL champions and the fourth marked its division winners. After the fireworks, another video tribute followed, accompanied by Queen's "We Are The Champions."
"It was awesome. This is really exciting," fan Pat Valiska of suburban Highland Park said. "We've waited a long time for this."
The ceremony also featured the unfurling of an American flag as big as the outfield during the playing of "The Star-Spangled Banner" and then a knee-knocking flyover by two jets.
"It was nice and impressive," said Frank Lakis, another fan who later had to sit through a fourth-inning rain delay. "The jets came a little close to the lights."
Chicago clinched all three of its playoff series on the road last season. And despite a wild parade through the streets of the city, Sunday night presented the first chance for the White Sox and their followers to celebrate in their own ballpark.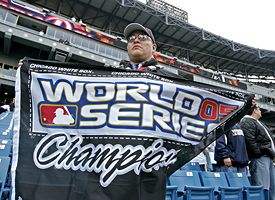 AP Photo/Nam HuhWhite Sox fans were treated to a colorful ceremony to celebrate Chicago's World Series title at the season opener on Sunday night.
"This is kind of a circus atmosphere out here," White Sox catcher
A.J. Pierzynski
said before the game. "We just want to get to where we can focus on baseball."
Repeating will be tough. The last team to win consecutive titles was the 1998-2000 New York Yankees.
After beating the New York Giants in the 1917 World Series, the White Sox went 57-67 the next season, good for sixth place. In 1960, one season after losing the World Series to the Dodgers, Chicago took third in the AL with an 87-67 record.
"I hope I don't have to wait 88 years again," White Sox manager Ozzie Guillen said.
Even though Guillen wants his players to move on to another season and not live in the past, he admits he's still savoring what happened last year.
"I still have the taste in my mouth, how good the season was, how my country reacted and how the fans appreciated it," Guillen said. "I think that's the reason Kenny Williams and Jerry Reinsdorf went out and tried to put together a better club. There is nothing better than to repeat."
There's more to come. The White Sox will get their rings Tuesday.
"Obviously we've never been in this situation before. I don't know if any of us know what to expect," general manager Kenny Williams said. "I'm looking forward to putting a World Series ring on."

Copyright 2006 by The Associated Press
SPONSORED HEADLINES
MORE MLB HEADLINES
MOST SENT STORIES ON ESPN.COM
EDITORS' PICKS
These players are vital to their team's success.
Blog

Ranking baseball's 30 farm systems for 2015.
Keith Law