Injuries taking their toll, but Bonds won't shut down
Updated:
April 24, 2006, 1:24 PM ET
ESPN.com news services
DENVER -- Barry Bonds has long wanted to catch and pass Hank Aaron on Major League Baseball's all-time home run list, but his hope has been accompanied by a disclaimer.
Bonds 'Should Have One More'
Diamondbacks radio analyst Tom Candiotti knows that Barry Bonds should have one more home run that he has been credited with -- because he threw the pitch.

On July 19, 1996, while Candiotti was pitching for the Dodgers at Candlestick Park, Bonds drove one of his knuckleballs over the fence in right-center and it bounced back onto the field. Second base umpire Tom Hallion ruled it a double.

"I looked over at Barry, he looks at me, and I just put my glove over my mouth because everyone in the ballpark knew it was out," Candiotti recalled with a laugh. "Then Barry starts pointing at me, like, 'You know that was gone,' and I just hold up two fingers. After the game, I'm walking out to the parking lot, and Barry was there just waiting for me to come out. He told me, 'You know that ball was gone,' and I said, 'I know it was gone.'

"Now, every time I see him, I tell him, 'Barry, wherever you end up, just think you should have one more.' And every time, I get a couple of choice words from him. So when he ties Babe Ruth, he should be past him."
-- Associated Press
"As long as I'm healthy, I want to give it a try," Bonds has said.
Now, the man who stands only five homers from Babe Ruth's career 714 and 46 from Aaron's record 755 believes his body will not allow him to catch the home run king.
"Heck no," Bonds told MLB.com when asked if he still had a chance to catch Aaron.
"I'm happy with what I've already done," Bonds said during an extensive interview as the Giants wrapped a three-game series in Colorado. "If I get it, I get it; if I don't, so be it. That's life, baby. That's life. It was fun while it lasted."
Because of increasing pain in a right knee that was surgically repaired three times last year and reduced his 2005 season to 14 games, and bone chips in his left elbow that have caused him much pain since the season began, Bonds told MLB.com his chances of catching Aaron are growing more unlikely.
Still, Bonds told the Web site that although his knee has remained steadily swollen for about a week, yet he has no intention of shutting himself down at any point this season.
"If I took off for five days, the swelling [in the knee] would be gone," Bonds told MLB.com. "But I don't have five days. I'm not taking five days off. I'm going to keep playing. I'm playing all year no matter what. Why would Ruth matter? This is a team. I'm trying to win a championship here. Ruth doesn't have anything to do with my championship. He won some. Let me have some.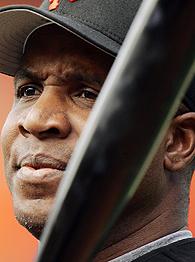 AP Photo/Gerry BroomeBarry Bonds needs to hit 22 home runs to pass Hank Aaron and become the all-time HR leader.
"The thing is, I'm not trying to pass Ruth because Ruth doesn't have the record," he continued. "Hank Aaron has the record. Going past Ruth would be just like going past Mike Schmidt or anyone else in baseball. Right? The record is Hank Aaron's. The topic is Babe Ruth."
Bonds told MLB.com that he's become entirely reliant on his upper body to drive the ball and getting now power out of his legs.
"When you get older, you've got to hang in there and keep working out," said Bonds, who acknowledged altering his training techniques because of his knee problems. "I haven't been able to do that up to my magnitude for over a year now. Running up and down hills, I can't do that. I can't leg press over 150 pounds because of my knee. So my whole body has gone in a different direction.
"My upper body is outdoing my lower body. My lower body, there's nothing there," he told MLB.com. "When you're older and that happens, it's twice as hard to get it back. So I'm frustrated. I'm fighting to get the strength back at the same time I'm fighting to stay in shape. But I can't run. How do you do it?"
Bonds hit his first homer of the season Saturday, in his 14th game -- one of the longest homerless streaks he has ever had to start the season when healthy. He struck out in a pinch-hit appearance in Sunday's 3-2 loss to the Rockies, leaving him with a .200 average, two RBI and, because of 20 walks in 57 plate appearances, an on-base percentage of .509.
The end to his career, Bonds said, is in sight.
"I'm proud of what I've done," he told MLB.com. "If I finish with 709, so what? That's why I love Willie Mays, my godfather, and Willie McCovey. I respect them so much because they're happy with what they've done. And they support the players who are coming. And if somebody comes up to match what I've done, I'm going to support him, too. I'm not ashamed of what I've done. I'm pleased."
SPONSORED HEADLINES
MORE MLB HEADLINES
MOST SENT STORIES ON ESPN.COM
EDITORS' PICKS
David Ortiz is on a path that could lead him to Cooperstown.
Howard »

A look at eight potential destinations for Jon Lester.
Jayson Stark »

Ruben Amaro tops list of GMs who need to make a deal.
Bowden
Antigua Men's San Francisco Giants White/Orange Trainer Polo Shop »