Mr. 2,000: Jeter becomes eighth Yank to reach mark
Updated:
May 27, 2006, 2:03 AM ET
Associated Press
NEW YORK -- Derek Jeter got his 2,000th career hit Friday night, becoming the eighth player in New York Yankees history to reach the milestone.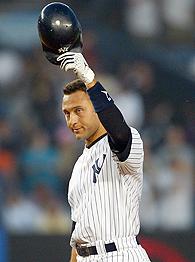 Jim McIsaac/Getty ImagesJeter's 2000th hit wasn't a screamer, but the Yankee faithful didn't seem to mind.
Jeter beat out a roller in front of home plate in the fourth inning against the Kansas City Royals and advanced to second when catcher Paul Bako threw the ball away for an error.
With the Yankee Stadium crowd chanting his name, Jeter twice tipped his cap as he stood on second base. He stole third on the next pitch and scored New York's first run on Alex Rodriguez's single. The Yankees lost 7-6.
"I know he had to be uncomfortable having to tip his cap," manager Joe Torre said. "It's too bad we couldn't cap it off for him with a win."
Jeter felt the same way.
"A hit's a hit," he said. "But we should have won this game. We had some opportunities to score. We let a couple of opportunities slip away."
Jeter said he appreciated the crowd's reaction, but was more concerned about winning the game.
"Personal accolades, you look back when your career is over, when the season is over," he said.
Jeter finished the night with two hits, two walks and a souvenir baseball.
"I'm sure my mom will want it," he said.
The 31-year-old Jeter is in his 12th major-league season. The other players to get 2,000 hits for the Yankees are Lou Gehrig (2,721), Babe Ruth (2,518), Mickey Mantle (2,415), Bernie Williams (2,255 entering Friday night), Joe DiMaggio (2,214), Don Mattingly (2,153) and Yogi Berra (2,148).

Copyright 2006 by The Associated Press
SPONSORED HEADLINES
MORE MLB HEADLINES
MOST SENT STORIES ON ESPN.COM