Utley's single extends hit streak to 31 games
Updated:
July 31, 2006, 12:09 AM ET
Associated Press
PHILADELPHIA -- Chase Utley extended his hitting streak to 31 games Sunday night with a sixth-inning single for the Philadelphia Phillies in the second game of a doubleheader against Florida.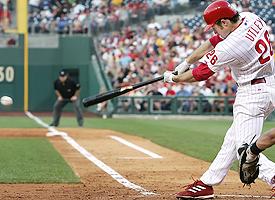 AP Photo/Tom MihalekUtley is tied for the second-longest hit streak in Phillies history at 31 games.
The streak is the longest in the major leagues this season.
With chants of, "Let's Go Utley!" growing louder on each pitch, Utley smacked an RBI single to center off Marlins starter Brian Moehler in the sixth and tied for the second-longest hitting streak in team history.
Shortstop Jimmy Rollins has the longest streak at 38 games -- the final 36 of last season and the first two this year. Ed Delahanty had a 31-game run in 1899.
Utley doubled and tripled in the first game of the doubleheader, helping the Phillies win 11-5. The All-Star second baseman flied out in the first inning and popped up in the fourth in his first two at-bats of the second game.

Copyright 2006 by The Associated Press
SPONSORED HEADLINES
MORE MLB HEADLINES
MOST SENT STORIES ON ESPN.COM
EDITORS' PICKS
Losing Manny Machado for the rest of the season is a big blow for the Orioles.
Story »

Yasiel Puig runs in ways you wish he wouldn't.
Scott Spratt

A statistical look at umpires' impact on the game.
Jayson Stark »