The heart of Jeff Reardon's darkness
Originally Published:
September 1, 2006
By
William Weinbaum
| ESPN
PALM BEACH GARDENS, Fla. -- Tens of thousands of people on South Florida's Gold Coast, accustomed to hurricane season, closed their shutters Tuesday in anticipation of Tropical Storm Ernesto.
Jeff Reardon of Palm Beach Gardens was among them. Reardon, though, was used to closing the shutters against more than just a tempest outside. Over the last 2½ years, the former All-Star closer has spent hour upon hour alone in darkness in his bedroom, reclining in a lounge chair and avoiding the light and cheer of a spacious home filled with mementos from his baseball career and a trove of family pictures of his wife, Phebe, and their three children, Jay, Shane and Kristi.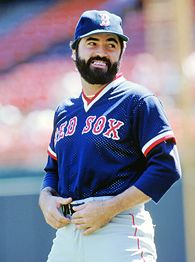 Reardon dominated hitters so effectively that he became known as 'The Terminator.'
Shane, the middle child, was the life of their party. "He smiled all the time, he had a great smile and all the girls liked him and he was pretty popular in his class," Reardon says. As a youngster, Shane loved to dress up as Superman and have Jeff hold him aloft, as if in flight. In his teens, he performed rap. His father wasn't a fan of that type of music, but he reveled in Shane's renditions. Shane was fighting drug problems; but when he graduated with honors from the Academy at Swift River, a prep school in Jeff's native western Massachusetts that provides behavioral therapy for struggling teens, he seemed to be winning that battle. Then, on the night of Feb. 21, 2004, Reardon's wife answered a phone call from a friend whose son had been with Shane that evening. After a few awkward seconds, the friend told Phebe the news. Shane was dead of an overdose at age 20. "At first, I refused to believe it," Phebe Reardon says. "I kept saying, 'It's not true, it's not true, they're gonna revive him, he's gonna be OK.'" Says Jeff: "I screamed out and she screamed out and I think I punched a hole in the wall and neither one of us could believe it because we thought he was on the right track there, and it was the worst call we ever got in our life."
---
Reardon had always been a picture of control, in his life and on the mound. Soft-spoken and meticulous, with a black beard and a lights-out fastball, Reardon earned the nickname "The Terminator." Over a 16-year career, he had more saves (367, sixth-most all time) than walks (358). He began in 1979 with the Mets and ended in 1994 with the Yankees, and played for the Expos, Twins, Red Sox, Braves and Reds in between. He pitched in two World Series: 1987 for Minnesota and 1992 for Atlanta. He intimidated hitters with his dynamic stuff rather than flamboyance. But with Shane gone, Reardon, 10 years past his last pitch in the big leagues, could not find relief. He plunged into a deep depression.
Jeff Reardon's story
On Tuesday at 5 p.m. Eastern on ESPN, "Outside the Lines" will air the Jeff Reardon story, including his first in-depth television interview about his arrest and acquittal, and the loss of his son.
• OTL home page
"It's like you don't ever want to wake up," he says. "You don't want to watch TV. You don't want to do anything. I just laid in a chair in my bedroom, and just laid there in darkness for months." The darkness fomented despair. "He did talk to me about suicidal thoughts," Phebe Reardon says. "That's not that unusual after you've lost a child. I think you almost feel this desire to be with them, and that's the logical way." How bad was it? "I went out on a highway once and pulled over and started to run across the street and the truck actually dodged and missed me," Reardon says. "I don't own a gun; but thank God I don't, because I probably would've used it." Added Phebe: "It scared me, because I know how suicidal he had been and I realized how close he was to the edge. I realized it had gone beyond something he could control. So that was when we decided to go get help."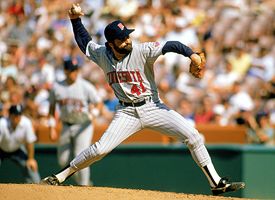 Stephen Dunn/Getty ImagesIn 1989 with the Twins, Reardon had 31 saves.
In December 2005, Reardon spent a week in a psychiatric facility. When he was discharged, he received prescriptions for half a dozen antidepressants and other antipsychotic medications. Then, just before Christmas, doctors found a blocked artery in his heart and scheduled surgery to implant a stent. "The funny thing is, when I went in for the surgery, because I was so depressed then, I actually didn't care if I woke up, which is a tough feeling," Reardon says. "I had a heart stent put in a couple of years ago, and I was very scared when my son was alive; but this one, I wasn't nervous because I was so bad with the depression. I figured if something happens, it happens." The procedure was a success, but Reardon developed a urinary tract infection. To help his recovery from the operation and the infection, he received prescriptions for another half-dozen medications, including the antibiotic Levaquin, whose side effects sometimes include paranoia, anxiety and depression. At Christmas time, Reardon was taking 12 different prescription drugs. On the day after Christmas, he says he set out for a nearby mall to replace a broken coffeemaker. But he doesn't remember being there.
The 911 call
The transcript (edited for length) of the 911 call made from the jewelry store being robbed by Jeff Reardon to the Palm Beach Gardens, Fla., police department. Operator: 911 …
Caller: Yes, Hamilton Jewelers in the Gardens Mall … we're being robbed.
Operator: OK, tell me what's going on …
Caller: There's a guy who just gave us a note, it's a note that says something, "I have a gun, please get me the key and put things in this bag."
Operator: OK, he gave you a note stating, what did he look like? White male?
Caller: He's a white male …
Operator: He said he had a gun?
Caller: Yes. He has a note that he just handed my manager. I saw part of the note.
Operator: And what did he ask for?
Caller: I don't know. My manager just mouthed to me, "Quick call the police, quickly."
Operator: OK, we're on the way, I just need you to tell me …
Caller: He's a tall guy, I'd say he's about 6-foot-3.
Operator: And he has a beard?
Caller: He has a beard, kind of disheveled looking.
Operator: But you don't know what he asked for?
Caller: No I don't, no I don't [sighs]. It said, "Get a key and put something in the bag" …
Operator: It said what?
Caller: "Get a key and put something in the bag" …
Operator: Get a key?
Caller: And put something in the bag.

In a barely legible and uncommonly polite robbery demand, Reardon presented a note to a jewelry store clerk that said, "I have a gun. Please place $100 bills & jewelry in this bag and no one will get hurt. Thank you." Says Phebe, "It's so infantile, it looks like a kindergartner wrote it. It's so out of character -- not his handwriting. Very strange." Reardon, who did not actually have a gun, says he was told later what had happened. "They said I waited patiently … [a store staff member] handed me a bag with $170. I had more money in my pocket. And I just walked out of the mall and they said I walked right up to a security guard when I got out of the mall. That's all I've been told. "I don't remember anything until I came out and said something to the security guard that I think I'd robbed the store and was on medication and didn't know why I did it." Reardon says he doesn't remember spending the night in jail after he surrendered, and that he can't think of any reason he would have attempted a robbery. "We're fine financially, so there was no incentive there to try to rob a jewelry store," he says. "Of course it was the medication. To not remember those things -- and I've always thought I've had a great memory, and my wife's always said, 'Your memory's great' -- and to lose thought of all those things that happened that day and things that happened after … it's kind of a scary feeling." The mug shot of a haggard Reardon, looking older than his 50 years, appeared all over the country in newspapers, on TV and on the Web.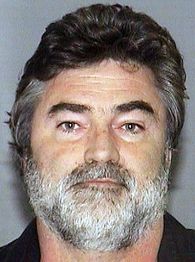 AP Photo/HO, Palm Beach, Fla. County Sheriff DepartmentReardon fears more people know him now for this arrest mug than for his pitching days.
"Actually, more people recognized me, I think, from that mug shot than from baseball," Reardon says. "Now they were looking at a robber. To me, it was embarrassing." Phebe Reardon says, "He looked old, he looked tired, he looked confused. It was sad, seeing somebody who'd been to the greatest heights in baseball by winning a World Series and the lowest of lows by losing a child; and this was just another challenge in our life." Soon after the episode at the mall and his release from jail, Reardon returned to a psychiatric facility, and was an inpatient for nearly two months. His doctors drastically reduced his medications and began to administer electroshock treatments. As his condition slowly improved, Reardon faced the robbery charge. Neither the facts nor the explanation was in dispute at Monday's trial. Two psychiatrists hired for the defense and two others retained by the state concluded that Reardon's actions were the result of a disorienting mix of 12 legally prescribed medications for his mental and physical conditions. As Reardon's lawyer, Mitchell Beers, described it, "medication-induced delirium" had turned the normally docile Reardon into a "loose cannon." Judge Stephen Rapp wasted no time in announcing his verdict: not guilty, by reason of insanity. "I'm happy with the verdict. But after losing your son, you're not too nervous about anything in life, to tell you the truth, because you just think about that all the time," Reardon says. "I'd serve life in prison if I could bring him back."
More on Shane Reardon
Letters and donations to the Shane Reardon Memorial Foundation can be sent to 7100-39 Fairway Drive, PMB400, Palm Beach Gardens, Fla., 33418. Find a legacy.com guest book tribute to Shane here.
Reardon offered an apology to the employees at the jewelry store: "I had no clue what I was doing, and I'm very sorry for scaring whoever I handed the note to and want to let them know I was definitely out of my mind when I did it." Reardon says he doesn't blame others and is not considering legal action over the effects of the medications.
---
These days, Reardon doesn't recline in his bedroom lounge chair, alone in the darkness, as much as he had been. He used to be an avid outdoorsman and says he's trying to resume his old routine. And he hopes to return to being a good husband to Phebe and a good father to Jay and Kristi. "People don't understand unless they're going through it," he says. "Everybody says, 'You've got to get over it, you've got to get over it.' Well, it's kind of hard when you spend 20 years with your son, and you love him and still love him, and all of a sudden he's not here for you to get a hug or a phone call or anything like that." As it happened, Tropical Storm Ernesto spared the Gold Coast this week. By Thursday, people all over South Florida had opened their shutters again. Jeff Reardon did, too.
William Weinbaum is an ESPN-TV producer. ESPN-TV correspondent Rachel Nichols contributed to this report.
EDITORS' PICKS
Continuing the BBTN 100 rankings with a look at the top 10 first basemen starters.
Rankings »

Bryce Harper will reach his 40-home run power ceiling, Jim Bowden says.
Blog

Is Cubs prospect Kris Bryant ready for the majors?
Story »

MOST SENT STORIES ON ESPN.COM